Breaking the Chains of Domestic Violence | Crystal Chatman
Crystal and her team hosted a domestic violence event that brought women, men, and youths together in a positive environment to raise awareness of domestic abuse. The team also helped a local women's shelter by donating 35 bags filled with 65 women's blouses and a variety of personal care products.
Fidget Quilts | Lois Berhow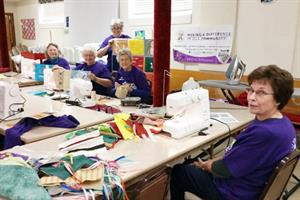 Lois formed a team of eight volunteers that made 40 Fidget Quilts. The quilts have zippers, buttons, snaps, Velcro, shoe strings, ribbons, eyelets, small toys, and other tactile items to help engage individuals with Alzheimer's. This Difference Maker team donated its beautiful quilts to three rest homes/senior centers.