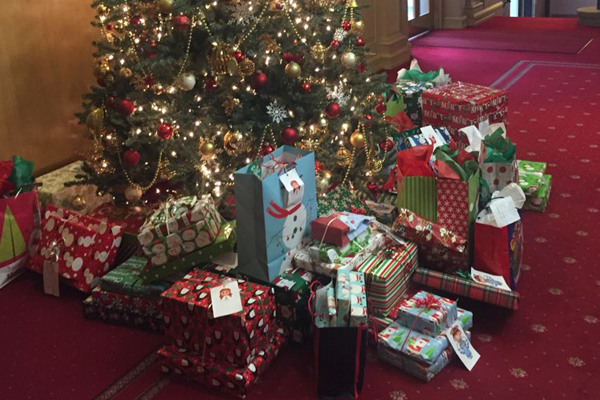 Amidst the hustle and bustle of the holiday season, it can be hard to think outside the list of gifts that need to be purchased, parties that need to be attended, and finding time to still enjoy this time of year. Many of us also like to give back this time of year, and we can help! With our Difference Maker Fund (DMF) program, we can help you to give back to your community and those in need.

Here are 5 ways you can use the Difference Maker Fund program this holiday season!
Create a project to donate to local shelters/hospitals/etc.
There are several projects that are easy to make, especially when a group of volunteers gets together! Click the links below for easy to follow steps for creating these simple and fun projects that anyone would love to receive this holiday!

a. Tie Blankets
b. Tote Bags
c. Donation Drive

Make and serve a hot meal at a local food pantry/homeless shelter
Many people in our communities go hungry every day. Gather a group of friends or coworkers to coordinate a meal during this holiday season. It can be as simple as making and serving spaghetti, garlic bread and salad. A warm meal can brighten anyone's day!

Make holiday cards for those in a nursing home, hospital or to send to military men and women
The holidays can be hard for individuals that no longer have family or family that lives nearby. By hosting a letter writing party you have the opportunity spread some holiday cheer to several individuals in your community. Coordinate with a local nursing home or hospital to see how many residents/patients they have and when an appropriate time to deliver cards may be. An alternative option would be to write letters to our military men and women serving overseas. Let them know that you support them and are thinking of them during this holiday season when they are unable to be with their own families.

One of our very own chapters in Florida runs Operation: Military Matters and would welcome your donation of cards! They can be sent to:

Operation: Military Matters
PO Box 8132
Seminole, FL 33775

Adopt a family – purchase, wrap and deliver gifts
Many churches and community organizations will have names of families that could use some extra support during the holiday season. By using the funds from your DMF project, you can purchase gifts for families in need and deliver them in time for holiday celebrations!

Volunteer at a local children's holiday party
Is there a school or after school program that is hosting a holiday party for their students? If so, volunteer to host a craft table at the event. Use your Difference Maker Funds to purchase the materials needed for students to crate a fun holiday inspired craft such as an ornament or picture frame.
Want to lead a volunteer project of your own? We can help you. Learn more and apply here.
Philanthropy programs are provided at the discretion of Royal Neighbors of America and are not available in all states. Funding subject to approval by Royal Neighbors of America.