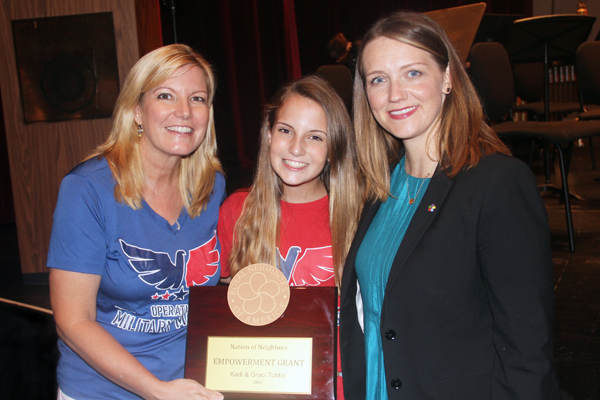 Operation: Military Matters started at a Veteran's Day school assembly in Florida when 9-year-old Graci Tubbs was inspired by listening to veterans speak. Graci's simple project to collect and ship supplies to our military overseas has grown into a multi-state effort to send more packages world-wide and let the soldiers know they are supported and their efforts to protect our freedom are appreciated back in the states. Her mother, Kadi Tubbs, who leads the nonprofit knows the importance of being a positive female role model and guiding her daughter to inspire people to make a difference in others' lives.

"We hear back from soldiers who have received the packages and it makes them smile and lifts their morale. They know people back home really care," explains Kadi.

Receiving the Nation of Neighbors℠ empowerment grant allows them to increase the number of packages sent to women serving on military bases throughout the world. Care packages include cards, personal care items, snacks, books, etc. along with covering the shipping expenses. More civic organizations, businesses and individuals are getting involved showing how the desire of one young girl and her family can empower entire communities and to support our soldiers across the world.

Nation of Neighbors℠, Royal Neighbors' signature program to empower women, provides financial assistance to individuals who have a plan to start or expand a business, an organization or group that helps women and girls. Nearly $2 million has been awarded since 2007.