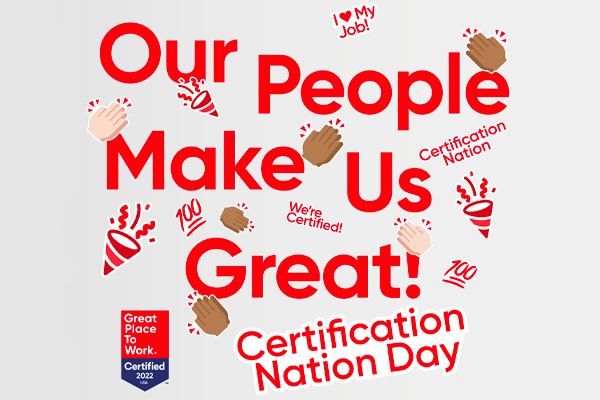 Rock Island, Ill. (May 17, 2022) – Royal Neighbors of America, a fraternal benefit society located in Rock Island, Ill., has been recognized as a Great Place to Work for the fifth time. Great Place to Work Certification is recognized worldwide by employees and employers and is the global benchmark for identifying outstanding employee experiences. Great Place to Work has designated May 17, 2022 as Certification Nation Day to salute and recognize the companies working to create great places to work for all.

Royal Neighbors of America considers itself a people-first culture. "We foster a culture of flexibility, belonging, and inclusion," said Human Resources Executive Angie Johnson. "We make work meaningful by empowering employees to not only grow their careers, but also make an impact in their communities."

Employees at the Rock Island-based fraternal benefit society identify themselves as "Royal Neighbors." The name Royal Neighbors came from combining "neighbor-helping-neighbor" with "royal," signifying our founders' belief in the nobility of the work they would do. Employees and Members contributed to the organization's record $21 million dollars in social impact in 2021.

"We are excited to showcase our amazing employees and everything they do every day to drive our mission of insuring lives, supporting women, and serving communities," added Ms. Johnson. "Our Royal Neighbors are proud to be a part of Certification Nation Day alongside so many other amazing organizations."

"Certified companies put employees first" says Michael C. Bush, Chief Executive Officer at Great Place to Work. "Thriving employees increase revenue, profit and provide market-leading customer experiences. I hope that Certification Nation Day can inspire other executives to create and sustain employee-first cultures." More information about Royal Neighbors' Great Place to Work Certification can be found at on the Great Place to Work website.

"While I'm proud and inspired by our fifth certification, I am not surprised," stated Interim-President & CEO Curt Zeck. "This is who we are," he added. "As Royal Neighbors, we adhere to timeless values, use perseverance to carry our families and communities through challenging times, and we commit to making a meaningful and lasting impact through volunteerism. This is all part of our cultural DNA, makes work meaningful, and makes us proud to call ourselves Royal Neighbors."

"As a father of three daughters, I am extremely proud to work for an organization that was not only a pioneer, but continues to be an industry leader in inclusive culture, supporting women, and serving communities," stated Evan Johnson, Royal Neighbors of America Senior Portfolio Manager.

"I am proud to be a Royal Neighbor because, as a mother, I am given the opportunity, tools, and resources to provide for my family, give back to my community through our philanthropic programs, share Royal Neighbors values with my children, and make volunteerism a priority in their lives," added Royal Neighbors Manager, Communications, Marie Young. "It's not just a great job. It's a meaningful job."

According to Great Place to Work research, job seekers are 4.5 times more likely to find a great boss at a Certified great workplace. Additionally, employees at Certified workplaces are 93% more likely to look forward to coming to work, and are twice as likely to be paid fairly, earn a fair share of the company's profits, and have a fair chance at promotion.


About Royal Neighbors of America
Royal Neighbors of America is a unique provider of life insurance and annuities whose mission is to protect women financially and empower them to improve their lives, families, and communities. Royal Neighbors was founded in 1895 as a membership organization by nine pioneering women who recognized the need to insure the lives of women and children. In 2020, Royal Neighbors was upgraded to "A Excellent" (3rd highest out of 13) by the AM Best Company for overall financial strength and ability to meet ongoing obligations to certificate holders. The rating was affirmed as of November 30, 2021. For more information about life at Royal Neighbors of America, go to royalneighbors.org.
About Great Place to Work Certification™
Great Place to Work® Certification™ is the most definitive "employer-of-choice" recognition that companies aspire to achieve. It is the only recognition based entirely on what employees report about their workplace experience – specifically, how consistently they experience a high-trust workplace. Great Place to Work Certification is recognized worldwide by employees and employers alike and is the global benchmark for identifying and recognizing outstanding employee experience. Every year, more than 10,000 companies across 60 countries apply to get Great Place to Work-Certified.
About Great Place to Work®
Great Place to Work® is the global authority on workplace culture. Since 1992, they have surveyed more than 100 million employees worldwide and used those deep insights to define what makes a great workplace: trust. Their employee survey platform empowers leaders with the feedback, real-time reporting and insights they need to make data-driven people decisions. Everything they do is driven by the mission to build a better world by helping every organization become a great place to work For All™.

Learn more at greatplacetowork.com and on Facebook, LinkedIn, Twitter, and Instagram.
Form #:P00567; Rev. 5-2022