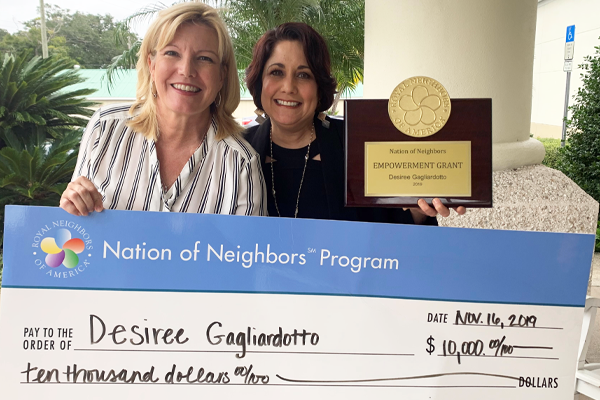 When Desiree Gagliardotto heard that there was a woman in her community who was unable to afford clothing for her newborn due to medical expenses, she pulled together a care package of supplies and shipped it to the struggling family. This desire to help one woman in her neighborhood grew into a nonprofit organization that has supported more than 350 families in 35 states. Little Llamas Ministry collects and delivers new and gently-used infant clothing to women and their families to help alleviate financial stress.

While the organization focuses on supporting moms and their newborns, the ministry also encourages mothers and daughters to get together to prepare and package the clothing items. "Little Llamas Ministry connects a community of women to help serve others in need. We provide a ray of hope to moms in difficult situations," says Ms. Gagliardotto.

Ms. Gagliardotto was awarded a $10,000 Nation of Neighbors grant which offers her the opportunity to expand the ministry and increase the number of families helped by placing clothing donation bins in local churches, pregnancy centers, women's shelters, daycare centers, and businesses. "We are very humbled to receive this award from Royal Neighbors. It will help us serve more moms in more states across the country."

Nation of Neighbors is a Royal Neighbors of America philanthropy program that honors women leaders who are impacting the lives of women and girls. Each year, recipients are selected for an empowerment grant to support their work. To date, Royal Neighbors has awarded more than $2 million to women across the country.