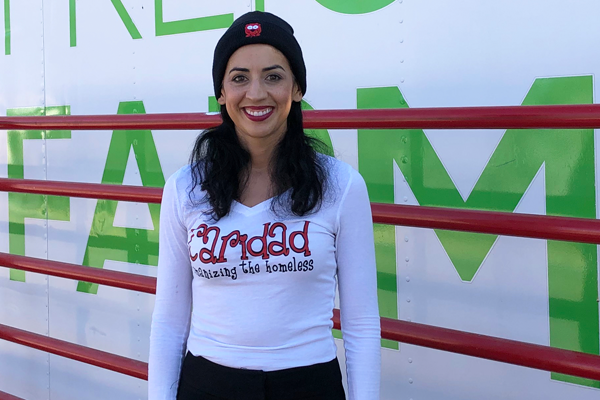 Merideth Spriggs is no stranger to economic hardship. And, having once been homeless herself, she – more than most - understands the importance of not losing sight of the humans that make up the homeless population. So, once she got back on her feet, Merideth did not leave those still on the streets behind; she founded Caridad.

Caridad, which means "charity" in Spanish, started as a simple clothing drive to support local charities. It has since blossomed into a full-time street outreach agency dedicated to telling the stories of the homeless, to connecting this population with existing resources and services, to finding them housing, job skills, employment opportunities. And, ultimately, to ending homelessness.

Caridad's latest initiative is going green – as in herbs and vegetables – with a project called Caridad Gardens, an agriculture-based employment and therapy program for formerly homeless vets designed to help them acquire job skills and reintegrate back into the workforce.

The Gardens project will grow produce year-round in an indoor hydroponic shipping container called a Freight Farm. Unfortunately, while Caridad had identified and acquired the actual container, having sat dormant for some time, it needed machinery and sensor repairs before planting could begin. This is where a 2019 Nation of Neighbors grant came into play.

Merideth says the grant made it possible for them to have the necessary work done to get the freight farm up and running. "It literally was the last piece of the puzzle. The grant has changed our world and made it possible to have the garden project. We're going to be able to use this thing!"

Selling the produce to local bars and restaurants will support program sustainability and create additional equity in the community. There are already 20 bars and restaurants who have agreed to purchase the produce for use in their kitchens, with the hope that even more will follow.

Nation of Neighbors is a Royal Neighbors of America philanthropy program that honors women leaders who are impacting the lives of women and girls. Each year, recipients are selected for an empowerment grant to support their work. To date, Royal Neighbors has awarded more than $2 million to women across the country.