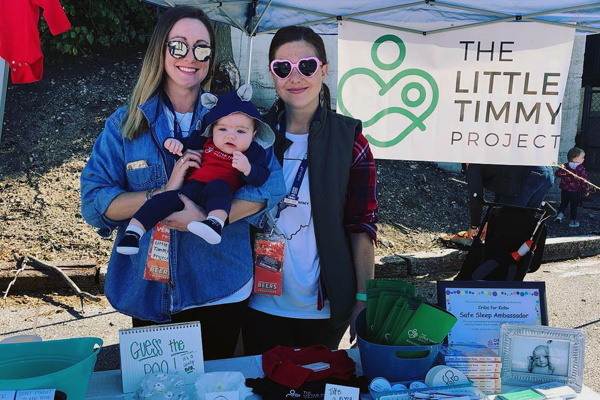 Katie Kirkhoff and Steffany Stoeffler have been talking about starting a nonprofit since they were freshmen in high school but hadn't yet identified their mission. Following the traumatic loss of her newborn son, Timmy, Katie began to research newborn and pre-natal issues as part of her healing process and, as a result, the two women discovered a significant need among disadvantaged pregnant women and new mothers right in their own backyard - Indianapolis.

According to the March of Dimes, Indiana currently has 33 counties that are classified as "maternity deserts" or areas where access to maternity health care services is limited or absent. This can be because the services simply do not exist or because socioeconomic challenges (lack of transportation or insurance, language barriers, etc.) prevent women from accessing the care they need. Katie and Steffany decided to embrace the opportunity to help address this need and founded The Little Timmy Project.

With the help of their 2019 Nation of Neighbors grant, the two will be able to achieve their goal of creating a mobile unit – the Little Mom Stop – that will allow them to bring classes, resources, health services, and a safe social space directly to women in several of these communities.

Steffany looks forward to partnering with and supplementing existing services wherever possible. "Above all, we are interested in collaboration. We want to help existing resources fill gaps and reach more women." They are also hoping to inspire others to get involved in what they see as a crisis for women in their state and to build equity in these communities.

Katie adds that the grant has opened doors for them to do just that, noting, "It's especially exciting to receive a grant that is based on empowering women. It's given us a greater sense of validation. We can do this!" The women are targeting a launch date of Summer 2020 for the Little Mom Stop.

Nation of Neighbors is a Royal Neighbors of America philanthropy program that honors women leaders who are impacting the lives of women and girls. Each year, recipients are selected for an empowerment grant to support their work. To date, Royal Neighbors has awarded more than $2 million to women across the country.