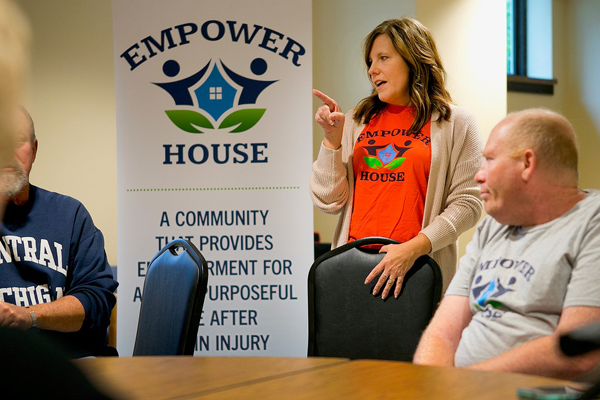 What started as a dream is now becoming a reality for speech therapist, Missey Heinrichs. She saw the long-term impact brain injuries could have on her patients and their families and wanted to make a difference.

Over the course of her career, Missey began to identify gaps in the services available to her patients following traditional rehabilitation; even after completing their therapy, many were not yet ready to return to work or their day-to-day lives. In researching ways to address this need, Missey discovered the Clubhouse model, which focuses on bringing together people with common disabilities for socializing and education in a safe and supportive environment.

Following a layoff she describes as a blessing in disguise, Missey realized the time was right to launch her vision for a community that provides empowerment for a more purposeful life after brain injury. And Empower House was born.

Their 2019 Nation of Neighbors grant will assist with the purchase or lease of a property that will serve as a "forever home" for Empower House, allowing them to expand the services they offer. "I am grateful to Royal Neighbors for believing in this work," Missey said. "We are excited to make this project a reality."

More than just a social club, Empower House encourages productivity, learning, and working together as a team to reach a common goal. Specifically, members will be responsible for everything necessary to keep the Clubhouse going each day. Missey explains, "We'll have a kitchen unit, a business unit, and a maintenance unit, so members can work on the kinds of skills that may lead to an eventual employment opportunity." Other activities will include advocating for the group in the community and job searching and preparation.

Affiliated with Brain Injury Alliance of Iowa, Empower House is the first Clubhouse for those with brain injuries in the state of Iowa.

Nation of Neighbors is a Royal Neighbors of America philanthropy program that honors women leaders who are impacting the lives of women and girls. Each year, recipients are selected for an empowerment grant to support their work. To date, Royal Neighbors has awarded more than $2 million to women across the country.