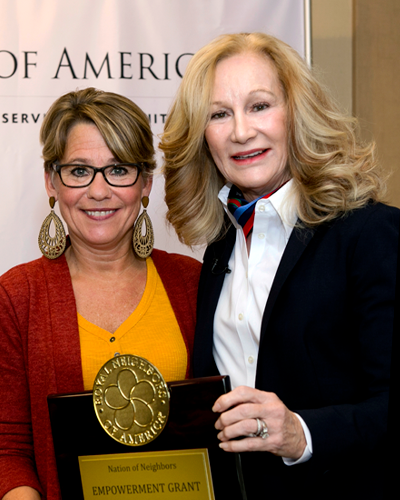 Lola Rahn is a small-town community leader who has opened her heart and home to more than 50 foster children in the past 28 years. As a way to honor her son that passed away from a heart condition at age 19, she founded a nonprofit organization, Foster Hope, which provides services, classes, and physical needs to adults fostering children. Lola said that her son loved being a foster brother.

With a Nation of Neighbors empowerment grant, Lola will be able to expand her outreach to foster families in the region.

"I am tremendously honored and grateful," says Ms. Rahn. "This grant will allow us to provide training and support to foster families caring for their foster children, as well as provide opportunities for young people to reach their potential."

Nation of Neighbors is a Royal Neighbors of America philanthropy program that honors women leaders who are impacting the lives of women and girls. Each year, ten recipients are selected for an empowerment grant to support their work. To date, Royal Neighbors has awarded more than $2 million to women across the country.