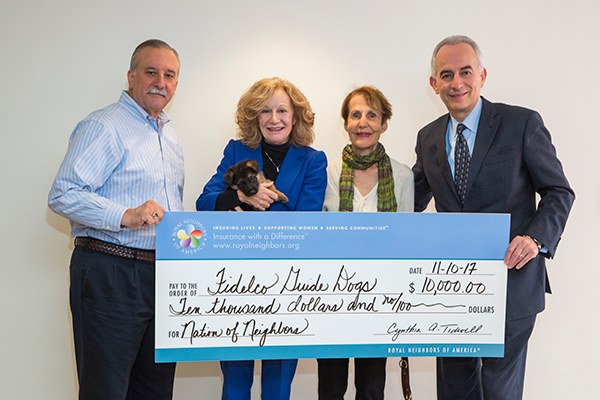 Since 1960, the Fidelco Guide Dog Foundation in Bloomfield, Connecticut, has bred, raised, trained and placed guide dogs for a wide variety of blind and visually impaired people including business leaders, wounded war heroes, teachers, athletes, mountain climbers, busy parents and retirees.
For the first time, Fidelco became the recipient of a $10,000 Nation of Neighbors grant specifically earmarked to support women clients who will benefit from Fidelco's renowned German Shepherd guide dogs.
"Fidelco Guide Dogs has been honored and we appreciate Royal Neighbors' support of our charitable mission that creates life-changing partnerships with our clients who are blind," says Fidelco Guide Dogs president and CEO, Eliot Russman.
A 2015 National Health Interview Survey estimates 14.4 million women experience significant vision loss compared to 9.3 million men.
Royal Neighbors' president and CEO Cynthia Tidwell got a first-hand look at Fidelco's new up and coming puppy trainees who will one day provide a bright future for the blind and visually impaired. "Fidelco has amazing, exciting and heartwarming mission," says Ms. Tidwell. "We are proud to share and support Fidelco's inspiring tradition to enable people to lead fulfilling and productive lives."