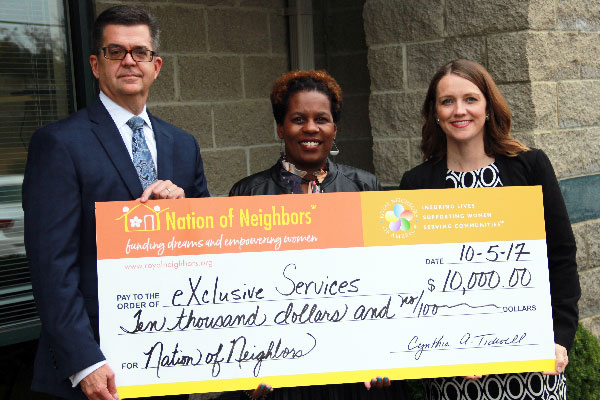 When Tracy Rawls, Cincinnati, Ohio, learned she had received a $10,000 Nation of Neighbors℠ award, she knew this was just the beginning for eXclusive Services. The nonprofit social services agency she founded specializes in chemical dependency/substance abuse treatment, education and behavioral health.
At age 20, Tracy was the office manager for a subsidized housing facility where she worked with the residents. Her passion ignited, she earned an undergraduate degree in criminal justice and addictions studies. She then continued on to earn a Master's degree in criminal justice and one in social work. Through her work, she began to see the lapses and gaps in assistance so she started eXclusive Services.
"Opiates and marijuana are the biggest addictions we have," said Tracy. "We have 50 clients now and they are accountable for their actions as they go through our program."
The Nation of Neighbors funds will be used toward purchasing and rehabbing a house that will become a sober living home for women. The home will include a catering/commercial kitchen. "We want to help our residents earn a degree in areas such as culinary arts, counseling and cosmetology," said Tracy. Knowing first-hand what a sober living arrangement can provide these women, Tracy and her her husband personall matched the $10,000 Nation of Neighbors grant.
According to Pauline Flowers who submitted the nomination, "Tracy does great things in the community and people need to know her story and what she does. She's very inspiring to me as well as the community."