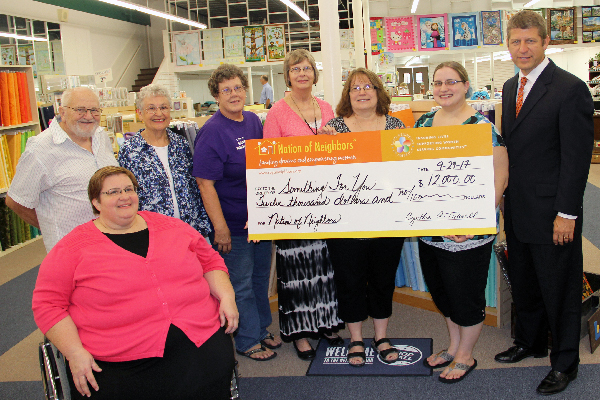 "I got so choked up and cried when I heard we received the Nation of Neighbors℠ grant for $12,000," said Cindy Koll. She and her daughter, Katie, were nominated by Royal Neighbors member Mary Neece because of the way they give back to the community.
The mother-daughter duo operates "Something for You," a quilt shop in Atlantic, Iowa, that not only supports local quilters, but offers space for projects that help the community. The business sells quilting supplies, holds classes, and provides the opportunity for people of all ages to learn the craft while completing projects that range from creating blankets for the homeless to dresses for African school children.
The monetary award will be used for the purchase of a long-arm quilt machine that will help finish customers' projects that require special equipment.
"Sometimes we sew, but sometimes we just talk about what's going on in our lives. This gives women a safe place to talk it out and gives them confidence. When you help other people build confidence, you build your own. It's a comfortable group where we can expand friendships," shared Cindy.
"I've been doing this for about six years and I learn something new each week from others. The 4-H group comes in to help as part of service projects and the confirmation class makes homeless quilts. I don't often think about the impact we're making, but when I do, I'm grateful that we can help."
According to Deb Casteel, a regular quilter, "We would be lost without this place. We build each other up when things are happening in our lives. When you get women together, we can do anything."