Twelve-year-old middle schooler creates bus boutique for needy students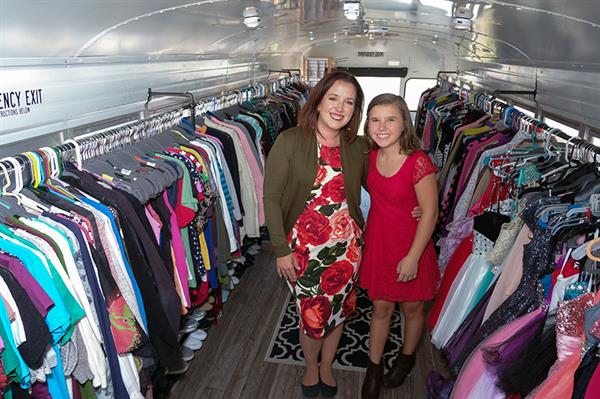 Mothers and daughters know that cleaning the closet of a pre-teen is a seasonal rite that can lead to pleas for newer, trendier and expensive outfits.
For a Rock Island, Illinois, mother and daughter team, the annual closet cleaning has transformed from a dreaded chore into a charity that provides local students the opportunity to pick out free, gently used clothes they otherwise might not be able to afford.
"This past summer, my daughter Maddie and I were going through her closet, and she told me she wanted to donate her outgrown clothes to a homeless shelter for other kids," recalls, Kelly Cook. "She's a very giving person, and while it touched me that she wanted to help, logistically we needed a better option to get clothes to the kids who need them."
Within a couple of weeks, both Maddie and her mom came up with Plan B and "Maddie's Closet" was born. They launched a Facebook page, caught the attention of the local community and with a big boost from a $15,000 Royal Neighbors of America Nation of Neighbors℠ grant, the mother-daughter duo is off and rolling with a donated school bus retrofitted as a boutique for students grades K-12. The bus replaces the hundreds of pounds of donated clothes that overwhelmed their private home and garage.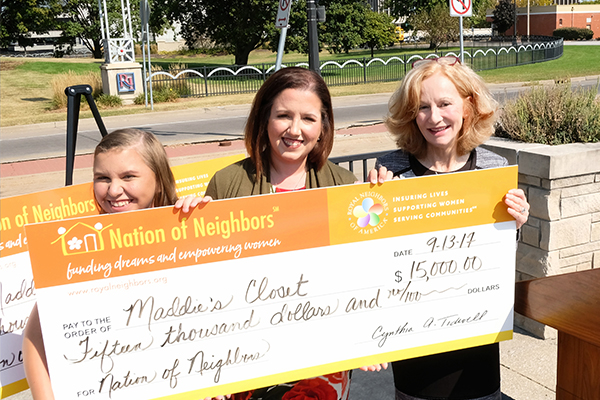 "I was raised on compassion. If we see someone standing on the corner, we give. Middle school can be hard on girls. Kids can be judgmental and mean. It's hard for a girl to step forward if she wants nice clothes, but has no money. I have heard stories from teachers that would break your heart about kids who wear the same clothes every day and are bullied for their appearance.
"Thanks to Royal Neighbors, we've got a renovated bus and gas to hold 'shop days' at area elementary schools where kids can pick up outfits as well as personal care items they may not have at home," adds Kelly.
"The grant has been a blessing. Royal Neighbors was there when we needed them most. It's what I call a 'God-thing.' Angels have stepped forward just at the right time!" Kelly and Maddie are also planning to open a convenient storefront to organize the donations and to serve as many local students as possible.