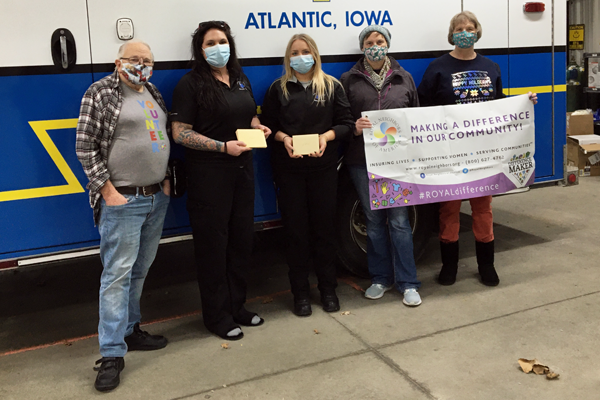 Our current pandemic has not stopped Royal Neighbors members from impacting their community through volunteerism – they are just doing it a little differently – with a little help from our Difference Maker Fund.

In fact, throughout this past year, we have experienced a significant increase in the number of members using this program to volunteer from the comfort of their homes.


Support for those in isolation
Member Crystal Chatman, collaborated with other members and friends to organize "Letters of Hope." Crystal applied and was approve for the Difference Maker Fund which provided her with $200 to purchase stationery and gift cards.

Together, they wrote 125 letters of encouragement, motivation, and positive affirmations. These letters, along with a gift card for a special treat, were sent to girls in their community that may have been struggling due to the pandemic and resulting isolation from friends and family.


Health care worker appreciation
Many of our members utilized the Difference Maker funds in ways that supported and gave back to the healthcare workers and first responders in their neighborhoods.

"When COVID-19 began, I realized that some of my friends in healthcare were being overworked," said Member Pam Thompson. "I started making and delivering food to them once a week."

Members in Atlantic, Iowa typically serves lunch to the EMS crew in their town but due to the pandemic were unable to this year. But they did not let that stop them from making a difference. Instead, they delivered gift cards to the office so the team could get pizzas delivered for their shift.


Knitting and sewing for a good cause
Other members have used their extra time at home to create blankets, scarves, hats, and other items for local homeless shelters, hospitals, and families in need. Member Margaret Rudnik said their group of volunteers used the funds received to purchase yarn to knit more than 120 scarves for a donation to Mercy Homes for Girls in Chicago, IL.

"The money has been a great help to complete this project, and the individuals that received these scarves absolutely loved them," said Margaret.

This past year has pushed many of us to look for new ways to volunteer, and our members certainly did not fall short of that challenge.


We are proud to support our members as they serve their community through volunteerism. If approved, the Royal Neighbors Difference Maker Fund provides $200 in seed money to help you turn your passion into action.

Did you recently complete a project? We would love to know the results of your project! Complete your follow-up report here.