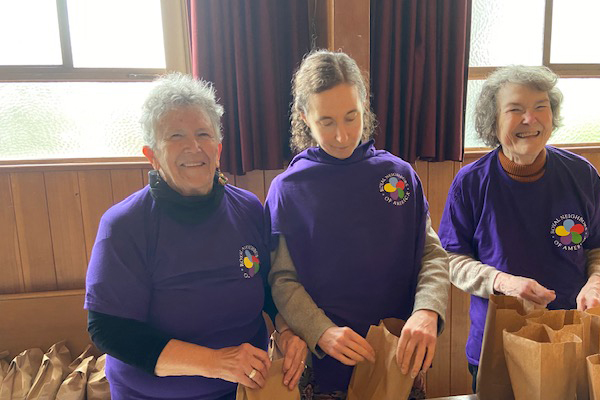 Royal Neighbors Member Jean Baker has been an active member of her chapter in Hillsboro, Oregon for many years – which is fitting because volunteering is her hobby.

With the help of the Difference Maker Fund, her hobby led her to Street Roots, a Portland based non-profit organization that assists the homeless (known as a vendor) by providing them with a means of earning money by selling their weekly newspaper.

"Each newspaper costs the vendor $0.25 and is sold to community members for $1.00," Jean explained. "The vendor keeps the $0.75 profit plus any additional tips they may receive."

As part of her chapter, Jean had previously volunteered with the organization serving monthly meals, and she was inspired to help these vendors by providing them with "grab and go kits." Jean reached out to her fellow chapter members to help her with her project.

"Imagine being homeless and having to earn your income selling newspapers on the street during Portland's cold, wet winter," said Jean. "We chose to support Street Roots because we have met a number of the homeless, and on the whole, we have liked them. We wanted to ensure they stayed dry, warm, and fed this winter while they were working."

Jean and her volunteers spent the day preparing and delivering 152 kits for these individuals that were out selling the Street Roots newspapers.

Each kit included a granola bar, hot chocolate mix, candy, lip balm, a pair of socks, and hand warmers.

"I appreciate that Royal Neighbors supports the volunteer efforts of its members," Jean said. "I was able to use the funding support to purchase additional items for the kits, and I was able to make a difference."

In addition to recruiting volunteers, Jean was able to work with St. David's Episcopal Church to purchase items for thee kits.

As a member, you can make difference just like Jean. The Difference Maker Fund program can bring your volunteer idea to life. Choose the cause you want to support through volunteerism and then it's as easy as applying, receiving the funds, and sharing your story with us! Learn more and apply here.