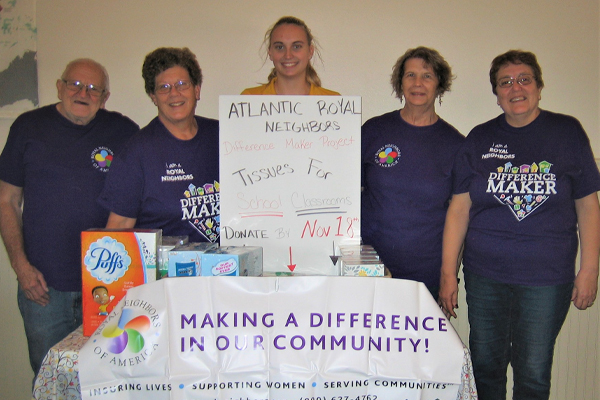 Making a difference can be as simple as passing along a tissue.

Royal Neighbors Member Lindsay Keltch decided to pass along hundreds to her local high school.

"I read an article in my local newspaper written by a student who explained that students either had to leave class to blow their nose or carry a wad of toilet paper in their pocket to not miss part of their lesson," Lindsay explained. "With the cold and flu season approaching, I knew that I could make a difference before this became a bigger health and education issue."

Lindsay, a member of Chapter 1373 in Atlantic Iowa, knew that the Difference Maker Fund could help her with this project. She applied and was quickly approved. Lindsay received $200 to support her volunteer efforts.

"With the Difference Maker Fund, I organized a drive to collect boxes of tissues and monetary donations to help Atlantic High School," Lindsay explains. "I reached out to my friends and other members of my chapter to help with this volunteer project, and the $200 was used to purchase 340 boxes of tissues making this project possible."

Along with the help of her volunteers, Lindsay collected more than 400 boxes of tissues – so many that they were also able to provide tissues for the special needs classroom at Washington School.

"It really feels great when you can help your community," Lindsay said. "You never know how you can make a difference, and I appreciate that Royal Neighbors supports the volunteer efforts of its members."

The Royal Neighbors of America Difference Maker Fund program can bring your volunteer idea to life. Choose the cause you want to support through volunteerism and then it's as easy as applying, receiving the funds, and sharing your story with us! Learn more and apply here.