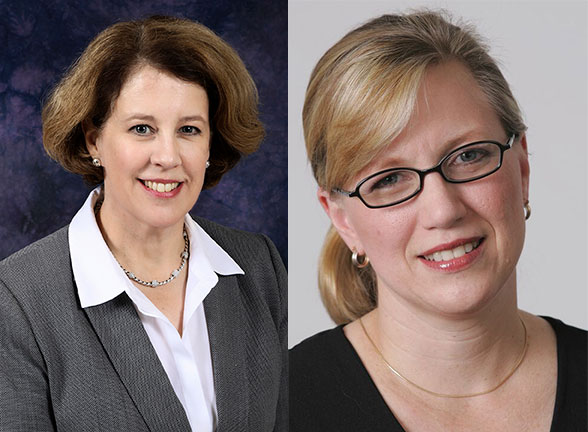 (Rock Island, IL)—Barbara Melbourne, J. D., Bettendorf, and Liz Merdian Lareau, M.A, Moline, have been appointed to the board of directors of the Royal Neighbors Foundation. Their knowledge and understanding of fund development and marketing will position the Foundation to further its mission of building women's futures through financial education.
Ms. Melbourne was named Palmer's vice chancellor for advancement in 2016. She is responsible for providing leadership in the strategic planning and execution of college programs and initiatives related to alumni relations and fund-raising. She previously served as vice president for development at the Community Foundation of the Great River Bend for 10 years. Ms. Melbourne brings to the Foundation over three decades of experience, including more than 21 years of planned-and major-gift experience in higher education and social services, including previous work at Augustana College, UCLA, and Penn State University. She holds a juris doctorate from the University of Kansas School of Law and a bachelor's degree in philosophy from Creighton University, Omaha, Neb.
Ms. Merdian Lareau is a partner in Bawden & Lareau Public Relations. B&LPR currently handles digital and traditional PR and public advocacy projects for clients both in the Quad Cities region and nationally. Her 30-year career spans television and radio news, corporate public relations, crisis management, advertising and marketing PR, brand management, and digital marketing and public relations. She is a graduate of the University of Illinois School of Media and received an M.A. in Communication at Western Illinois University. She has published and presented scholarly papers on marketing and brand narrative-related topics, and in 2018, she will debut as an author of graphic novels that encourage girls to consider STEM careers.
"We're pleased to welcome Barbara and Liz to the Foundation board," said Mary Staver, President. "Their vast experience in strategic planning, marketing, fund development, and PR will help broaden the scope of our mission and assist more women as they move forward to achieve their highest aspirations."
About the Royal Neighbors Foundation
The Royal Neighbors Foundation is the independent philanthropic foundation of Royal Neighbors of America. It was established in 2002 as a 501(c)(3) public charity to provide financial education and support causes that empower women and their families. To further its mission of Building Women's Futures Through Financial Education℠, the Foundation offers scholarships and grants to women as they strive to reach their financial goals. For more information, visit
www.royalneighborsfoundation.org
or call (800) 537-1396.
Form #:P00238; Rev. 8-2017