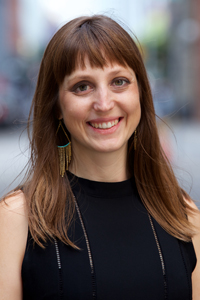 Kristen Euretig, CFP®, has been retained by the Foundation to provide educational financial articles and webinars for the Foundation to help us fulfill our mission of Building Women's Futures Through Financial Education℠. She is the founder of Brooklyn Plans, LLC, a business designed to address the void in the financial planning industry for women in their 20s-40s to access reliable, independent financial advice and services. She is passionate about connecting women to the help they need to take control of their finances.
A former school teacher, Kristen developed curriculum and implemented financial education programs internationally, including Nigeria and Nicaragua.
Receiving her Bachelor of Arts degree in linguistics at the University of California, San Diego, Kristen earned her Master of Science degree in education/teaching English as a second language at Long Island University, Brooklyn Campus. She received her Certificate, Financial Planning, at Boston University.
She has been featured in Forbes, The New York Times, and The Wall Street Journal as an expert financial planner and advocate.