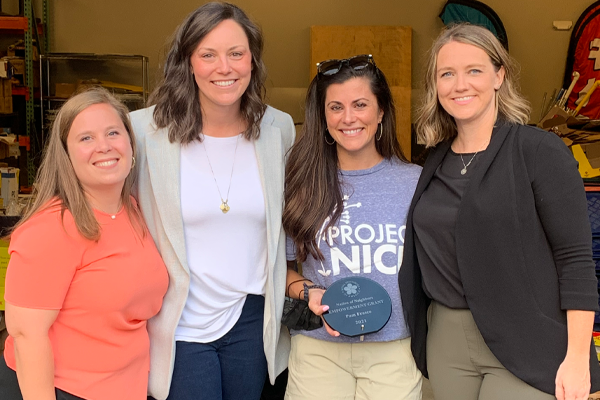 Rock Island, Ill. (Sep. 2, 2021) – Royal Neighbors of America, one of the largest and first women-led insurance organizations in the US, located in Rock Island, Ill., has announced that Pam Frasco, founder and president of Project NICU, Cleveland, Ohio, has been presented with one of ten Nation of Neighbors℠ empowerment awards and grants presented nationwide. In addition to the award, she received a $10,000 grant for her organization.

According to the CDC, 1 in 10 babies born in the United States are born prematurely#1, and mothers of preterm babies are 40% more likely to develop postpartum depression (PPD).#2 If a baby is treated in a Neonatal Intensive Care Unit (NICU), a mother is up to 70% more likely to experience PPD compared with mothers of healthy term infants outside of the NICU.#2

"I wanted a way for NICU parents like myself who wanted to give back to those that have come after us and celebrate these incredible medical teams that work miracles minute by minute," stated Ms. Frasco. "From NICU Care Packages to our Family Assistance Fund, Parent Mentoring, Virtual Support Groups, Graduate Programming, events, and more, we are here for every step of the journey."

Royal Neighbors' Director of Philanthropy my Jones presented the award to Ms. Frasco. "Fueled with love and compassion as a result of her family's experience in the NICU, Pam Frasco exemplifies Royal Neighbors' 126-year-old mission to make a positive impact on women and their communities nationwide," Ms. Jones stated.

Royal Neighbors chose to deliver the award and grant during NICU Awareness Month which is hosted in September each year and designed to honor NICU parents and professionals.

Ms. Frasco says they plan to use the funds to launch a counseling program. "This program will allow us to add a much-needed layer to our support approach offering direct mental health counseling to parents who have experienced a traumatic birth and NICU journey," she said. "By providing scholarships, we can eliminate a barrier for families to receive the support they so desperately need."

Nation of Neighbors is a Royal Neighbors of America philanthropy program that awards financial assistance to nominated individuals who have a plan to start or expand a business, organization, program, or nonprofit that helps women and/or girls in their community. To date, nearly $2.5 million has been awarded nationwide.

About Royal Neighbors of America
Royal Neighbors of America is a unique provider of life insurance and annuities whose mission is to protect women financially and empower them to improve their lives, families, and communities. Royal Neighbors was founded in 1895 as a membership organization by nine pioneering women who recognized the need to insure the lives of women and children. In 2020, Royal Neighbors was upgraded to "A Excellent" (3rd highest out of 13) by the AM Best Company for overall financial strength and ability to meet ongoing obligations to certificate holders. For more information about Royal Neighbors of America, visit royalneighbors.org.
#1cdc.gov/reproductivehealth/maternalinfanthealth/pretermbirth.htm
#2 ncbi.nlm.nih.gov/pmc/articles/PMC4247145

Form #:P00520; Rev. 9-2021