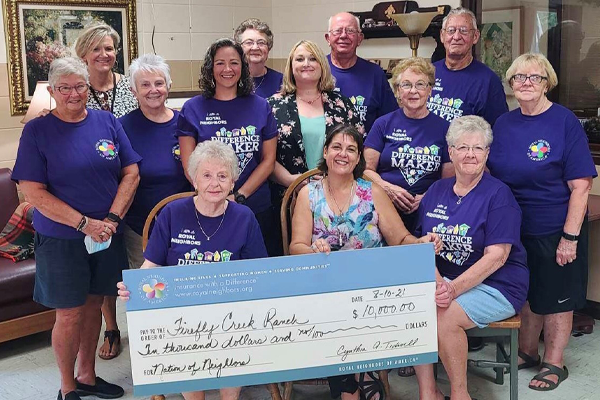 Rock Island, Ill. (Aug. 10, 2021) – Royal Neighbors of America, one of the largest and first women-led insurance organizations in the US, located in Rock Island, Ill., has announced that Brenda Rose, founder and director of Firefly Creek Ranch, Guthrie Center, Iowa, has been presented with one of ten Nation of Neighbors ℠ empowerment awards and grants presented nationwide. In addition to the award, she received a $10,000 grant for her organization. "We are so excited and grateful that Royal Neighbors has chosen us to receive this grant," says Brenda Rose, RN, founder and director. "It is a profound experience to help individuals heal and begin to live a more fully encompassing life." With the grant funds, Firefly Creek Ranch will expand its safe home and aftercare services for individuals who have experienced sexual trauma and human trafficking.

Royal Neighbors' Regional Sales Account Manager Michelle Hilliker presented the award to Ms. Rose. "For more than 125 years, Royal Neighbors has sought to empower women to make a positive impact in their communities. We are honored to recognize Brenda Rose's leadership and support her mission to assist women who are victims of human trafficking and help them restore their lives."

Ms. Rose hopes this recognition inspires other to learn more or to seek help. "Sharing their stories in a safe place is an important step in the healing process. It's all about restoring the heart. It's about building love and trust so that we can work towards recovery."

Nation of Neighbors is a Royal Neighbors of America philanthropy program that awards financial assistance to nominated individuals who have a plan to start or expand a business, organization, program, or nonprofit that helps women and/or girls in their community. To date, nearly $2.5 million has been awarded nationwide.


About Royal Neighbors of America
Royal Neighbors of America is a unique provider of life insurance and annuities whose mission is to protect women financially and empower them to improve their lives, families, and communities. Royal Neighbors was founded in 1895 as a membership organization by nine pioneering women who recognized the need to insure the lives of women and children. In 2020, Royal Neighbors was upgraded to "A Excellent" (3rd highest out of 13) by the AM Best Company for overall financial strength and ability to meet ongoing obligations to certificate holders. For more information about Royal Neighbors of America, visit royalneighbors.org.
Form #:P00513; Rev. 8-2021