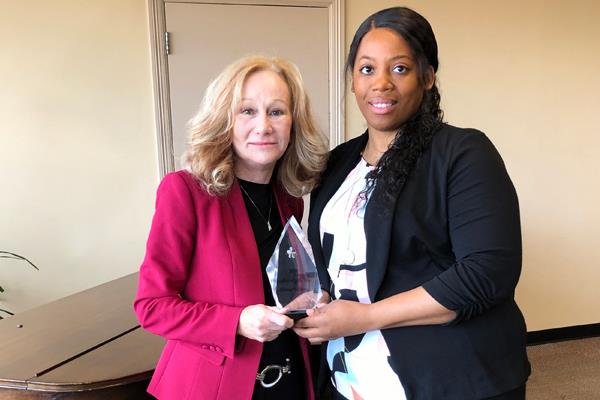 Rock Island, Illinois (February 11, 2020) - Royal Neighbors of America, Rock Island, Illinois, awarded Shavonda House, Milan, Illinois, Customer Support Center Processing Specialist, as the 2019 Employee of the Year for her servant leadership and remarkable contributions to the Society.

Shavonda was nominated for this prestigious award because of her willingness to learn a new role within a different department, while continuing to perform her current job functions. She introduced ideas that increased efficiencies, demonstrated enthusiasm, and remained a team player throughout the entire process. Shavonda was also recognized for providing excellent service to both members and agents.

"Shavonda took on new roles and challenges to help us reach our goals last year," President and Chief Executive Officer Cynthia Tidwell said. "We value being an organization with whom our agents find it easy to do business and from whom they – and our customers – can expect superior service. Shavonda supported these objectives by offering innovative ideas to create efficiencies and demonstrating her commitment to ensuring a positive experience for agents and members."

The Employee of the Year program was established to annually recognize employees who demonstrate professionalism and integrity; embrace innovation; share knowledge and resources with others; support the organization's mission; and go above and beyond to respond to external and internal stakeholders. Employees are nominated for this award by fellow co-workers, then judges use an anonymous process to evaluate the nominees before selecting the winner.

About Royal Neighbors of America
Royal Neighbors of America is a unique provider of life insurance and annuities whose mission is to protect women financially and empower them to improve their lives, families, and communities. In 1895, Royal Neighbors was founded as a membership organization by nine pioneering women who recognized the need to insure the lives of women and children and the importance of localized philanthropy. Headquartered in Rock Island, Illinois, with an operation in Mesa, Arizona, Royal Neighbors serves more than 215,000 members.


Form #:P00409; Rev. 6-2021