Cancer Patient Art Therapy, Foster Care, and a New QC-Area Brain Injury Home to Benefit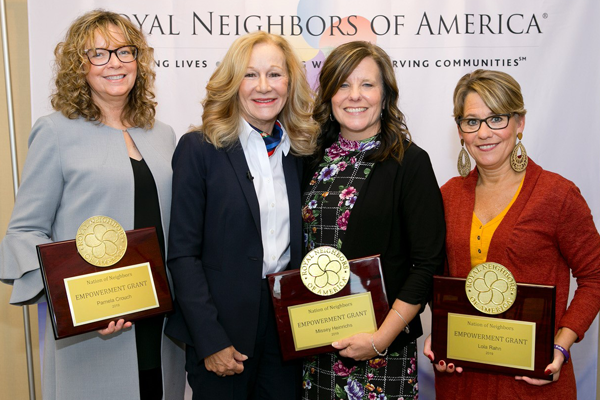 (Rock Island, Ill.) — Royal Neighbors of America presented three (3) separate $10,000 Nation of Neighbors℠ grants to Quad City area nonprofit organizations that support people impacted by cancer, help foster families, and empower those who have suffered brain injuries to lead productive lives.

Art therapy organization, Living Proof Exhibit, and its founder, Pamela Crouch, Moline, Ill., accepted a grant to expand its program that encourages cancer patients, survivors, families, and caregivers to creatively express themselves through art that is then featured in community exhibitions. "I am thrilled and honored to be recognized as a Nation of Neighbors award winner. This is an award that benefits all Quad Citizens touched by cancer. The funds received will allow us to continue to provide programming that reduces stress and offers hope and joy to people impacted by cancer."

Another grant recipient, Foster Hope co-founder, Lola Rahn, Atkinson, Ill., accepted funds to expand her family's nonprofit foster family outreach organization in Geneseo, Ill., provide supplies for those aging out of foster care, and offer scholarships for teens to continue their education. The Rahn family has fostered more than 50 children over the past 28 years. "I am tremendously honored and grateful," says Mrs. Rahn. "This grant will allow us to provide training and support to foster families caring for their foster children, as well as provide opportunities for young people to reach their potential."

Quad City speech therapist and award recipient, Missey Heinrichs, Davenport, Iowa, also accepted funds to help purchase a "forever home" for her group, Empower House, which offers programs and activities to help empower those recovering from brain injury to lead active and purposeful lives. "We are very grateful and excited to make this project a reality. The money will help us purchase or renovate a building to house the new program."

Cynthia Tidwell, Royal Neighbors President/CEO states, "Our organization's mission is to provide women and their families with needed life insurance and annuity products and to also make a difference in the communities where our members live. Nation of Neighbors is our signature women's empowerment program. It is built on the legacy of helping women who are doing extra-ordinary things within their communities make an even larger impact. Each of these grant recipients leads a unique organization that benefits the Quad City community. They are already making a profound difference and changing lives within their area of expertise with the work that they do, and our grant will help extend their reach even further. When we support women who make a difference, their social impact increases exponentially. We are committed to helping women get to a better place financially and to improve the communities in which they live. We know strong women create strong families and that leads to strong communities."

Nation of Neighbors is a Royal Neighbors of America philanthropy program that provides financial assistance to individuals who have a plan to start or expand a business, organization, program, or nonprofit that helps women and/or girls in their community. To date, more than $2 million has been awarded nationwide.


About Royal Neighbors of America
Royal Neighbors of America is a unique provider of life insurance and annuities whose mission is to protect women financially and empower them to improve their lives, families, and communities. In 1895, Royal Neighbors was founded as a membership organization by nine pioneering women who recognized the need to insure the lives of women and children and the importance of localized philanthropy. Headquartered in Rock Island, Illinois, with an operation in Mesa, Arizona, Royal Neighbors serves more than 200,000 members.


Form #:P00401; Rev. 6-2021