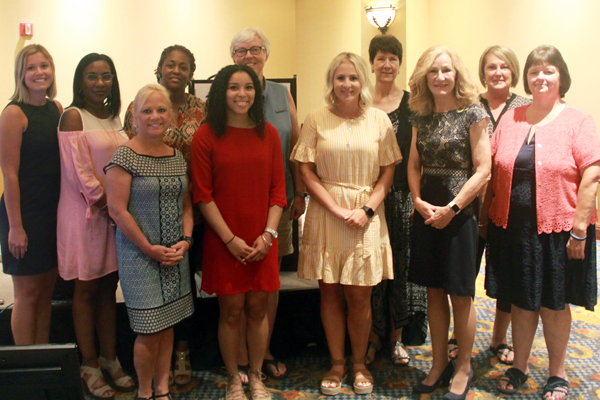 Rock Island, Ill. (July 22, 2019) – President and CEO of Royal Neighbors of America, Cynthia Tidwell, spoke to RSM Davenport's STAR group, an Employee Network Group that recognizes and supports women. The event was held in Davenport, Iowa, on Thursday, July 18.

Recognized in 2018 as one of the 25 Most Influential Women by CEO Connection, Ms. Tidwell discussed her leadership journey and guideposts for success. Several Royal Neighbors members who serve in leadership roles for the organization's local volunteer and philanthropic efforts joined Ms. Tidwell at the event.

"Throughout my leadership journey, I have learned that sharing my experiences with others is a critical component to being a good leader," Ms. Tidwell said. "From the top, to the middle, to the brand new employee - we can all learn from each other. It was my privilege to share my story with the women at RSM."

Ms. Tidwell, a successful turn-around executive accomplished in all facets of insurance, has led Royal Neighbors since 2005. She reshaped the organization's vision and strategy, resulting in a reversal of declining trends, record sales, and an alignment of philanthropy initiatives to better meet the needs of today's women.

To learn more, visit www.royalneighbors.org/leadership.

About Royal Neighbors of America

Royal Neighbors of America is a unique provider of life insurance and annuities whose mission is to protect women financially and empower them to improve their lives, families, and communities. Royal Neighbors was founded as a membership organization in 1895 by nine pioneering women who recognized the need to insure the lives of women and children. Today, with headquarters in Rock Island, Illinois, and an operation in Mesa, Arizona, Royal Neighbors delivered over $17 million of Social Good in 2018 and serves over 200,000 members. For more information and to become a member of Royal Neighbors, visit us at www.royalneighbors.org.


Form #:P00341; Rev. 6-2021