Michelle Hilliker Recognized for Excellence by Her Peers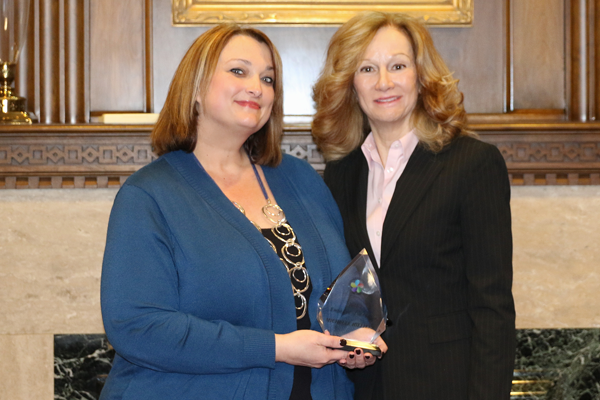 Rock Island, Illinois (February 14, 2019) — Royal Neighbors of America, Rock Island, Illinois, awarded Michelle Hilliker, Davenport, Iowa, Regional Sales Account Manager, as the 2018 Employee of the Year for her outstanding business performance and dedication to philanthropy.

Michelle was nominated for this prestigious award because she provided above and beyond customer service to internal and external stakeholders; executed numerous cost-saving ideas; and was instrumental in working with our top agents. Michelle also served as an active participant in Royal Neighbors philanthropic initiatives including assistance to agents to start new Chapters in their communities.

"Michelle plays an integral role in our success, both with our sales agents and our philanthropic mission," said Cynthia Tidwell, Royal Neighbors President and CEO. "Her understanding of sales distribution and ability to build strong relationships are invaluable and demonstrate her commitment to her position and dedication to our organization."

The Employee of the Year award program was created to annually recognize an employee who demonstrates professionalism and integrity; embraces innovation; shares knowledge and resources with others; supports the organization's mission; and goes above and beyond to respond to external and internal customers. Employees are nominated for this prestigious award by fellow co-workers, then judges use a blind process to evaluate the nominees before selecting the winner.

About Royal Neighbors of America
Royal Neighbors of America is a unique provider of life insurance and annuities whose mission is to protect women financially and empower them to improve their lives, families, and communities. Royal Neighbors was founded as a membership organization in 1895 by nine pioneering women who recognized the need to insure the lives of women and children. Today, with headquarters in Rock Island, Illinois, and an operation in Mesa, Arizona, Royal Neighbors delivered over $14 million of Social Good in 2017 and serves over 200,000 members. For more information and to become a member of Royal Neighbors, visit us at www.royalneighbors.org.


Form #:P00334; Rev. 6-2021