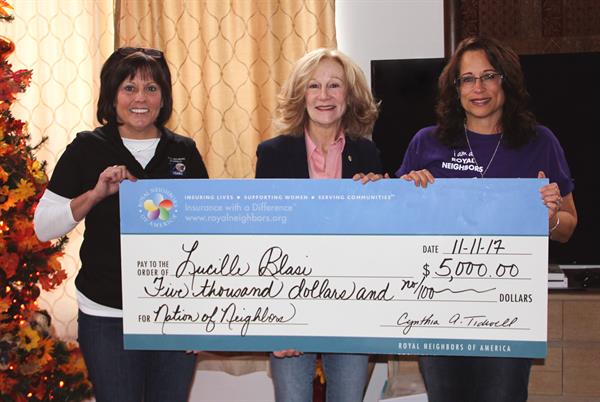 Illinois women-led life insurer surprises Aurora mother and sewing philanthropist with $5,000 to expand her outreach to girls, women, and seniors
(Saturday, Nov. 11, 2017, Rock Island, IL) — Royal Neighbors of America®, one of the nation's first and largest women-led life insurers, has donated $5,000 to Aurora resident, Lucy Blasi, whose volunteer team of seamstresses is well-known for reaching out to those in need. A mother and prolific seamstress, Ms. Blasi, who has taught a team of girls to sew charity projects for women and seniors, received a Nation of Neighbors℠ grant for expansion of her outreach. Royal Neighbors of America President/CEO, Cynthia Tidwell, says Lucy is a great example of how women can make an amazing difference channeling their talents into action. "Our Nation of Neighbors Program is built on a legacy of lifting women up to help them make a difference in their own homes, neighborhoods, and communities. Lucy and her team have inspired all of us at Royal Neighbors. It's what we're all about."

Focused on empowering women, the Nation of Neighbors Program has awarded nearly $1.8 million nationwide since 2007. Each year, Royal Neighbors members and insurance sales agents across the country are asked to nominate individuals they know who plan to start or expand a business or an organization that helps women and girls. A panel reviews each nomination and determines the recipients and the monetary amounts awarded.

Lucy, who armed with sewing machines and her band of volunteers, has logged hundreds of hours creating such projects as toiletry bags for the homeless, comfort bags for those undergoing chemotherapy, and "fiddling" therapy lap mats featuring sewn buttons and zippers for Alzheimer's patients. The grant monies will be used to purchase sewing supplies and additional sewing machines.

About Royal Neighbors of America
Royal Neighbors of America, one of the nation's largest women-led life insurers, empowers women to meet the needs of their families with annuities and life insurance products such as whole life, simplified issue, term, and universal life. Royal Neighbors was founded in 1895 and is headquartered in Rock Island, IL, with a branch office in Mesa, AZ. For more information, visit www.royalneighbors.org or call (800) 627-4762.
Form #:P00270; Rev. 11-2017