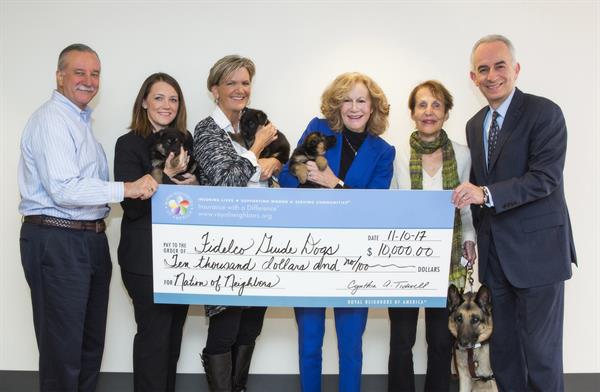 Fidelco Guide Dog Foundation to be awarded $10,000 national grant:
Women-led life insurer donates to empower visually impaired women


(Rock Island, IL) — One of the nation's oldest and largest women-led life insurers, Royal Neighbors of America®, has donated $10,000 to the Fidelco Guide Dog Foundation earmarked to support women clients who will benefit from Fidelco's renowned German Shepherd guide dogs. Royal Neighbors of America President/CEO, Cynthia Tidwell, presented a $10,000 Nation of Neighbors℠ check to Fidelco Guide Dogs President and CEO, Eliot Russman. "We recognize that when women reach their full potential, our families, homes, and communities benefit. We share and are proud to support Fidelco's inspiring tradition to ensure the visually impaired lead amazing and productive lives," said Ms. Tidwell. The American Foundation for the Blind estimates that every seven minutes someone in the U.S. becomes severely visually impaired. A 2015 National Health Interview Survey estimates 14.4 million women experience significant vision loss compared to 9.3 million men.

Focused on its history of empowering women, the Nation of Neighbors Program has awarded nearly $1.8 million nationwide since 2007. Each year, Royal Neighbors members and insurance sales agents across the country are asked to nominate individuals they know who plan to start or expand a business or an organization that helps women and girls. A panel reviews each nomination and determines the recipients and the monetary amounts awarded.

Fidelco breeds, raises, trains, and places guide dogs for a wide variety of blind and visually impaired people including business leaders, wounded war heroes, teachers, athletes, mountain climbers, busy parents, and retirees. "Fidelco Guide Dogs is honored to receive this important, first-time $10,000 grant from Royal Neighbors of America. We appreciate their support of our charitable mission that creates life-changing partnerships with our clients who are blind," said Mr. Russman. "We're delighted to direct this grant to support and empower our current female clients who serve their communities as teachers and advocates, and who have served at the highest level of national government; as well as future clients who will be able to realize increased independence and mobility with a Fidelco Guide Dog partner leading her way.

About Royal Neighbors of America
Royal Neighbors of America, one of the nation's largest women-led life insurers, empowers women to meet the needs of their families with annuities and life insurance products such as whole life, simplified issue, term, and universal life. Royal Neighbors was founded in 1895 and is headquartered in Rock Island, IL, with a branch office in Mesa, AZ. For more information, visit www.royalneighbors.org or call (800) 627-4762.

About Fidelco Guide Dogs
Founded in 1960, with operations in Connecticut and clients living across North America, Fidelco Guide Dog Foundation is a 501(c)(3) nonprofit that partners exceptional men and women who are blind with its elite-bred German Shepherd Guide Dogs, providing all clients with increased independence to improve their lives and the world around them. It takes two years, 15,000 hours, and $45,000 to create every guide dog. All Fidelco Guide Dogs are given to clients at no cost and includes 24/7 client services for the life of the team, typically 10 years. Fidelco Guide Dogs pioneered In-community Placement in the USA, with over 1,500 guide dog placements occurring in clients' home communities in 41 states and six Canadian provinces.
Form #:P00271; Rev. 11-2017