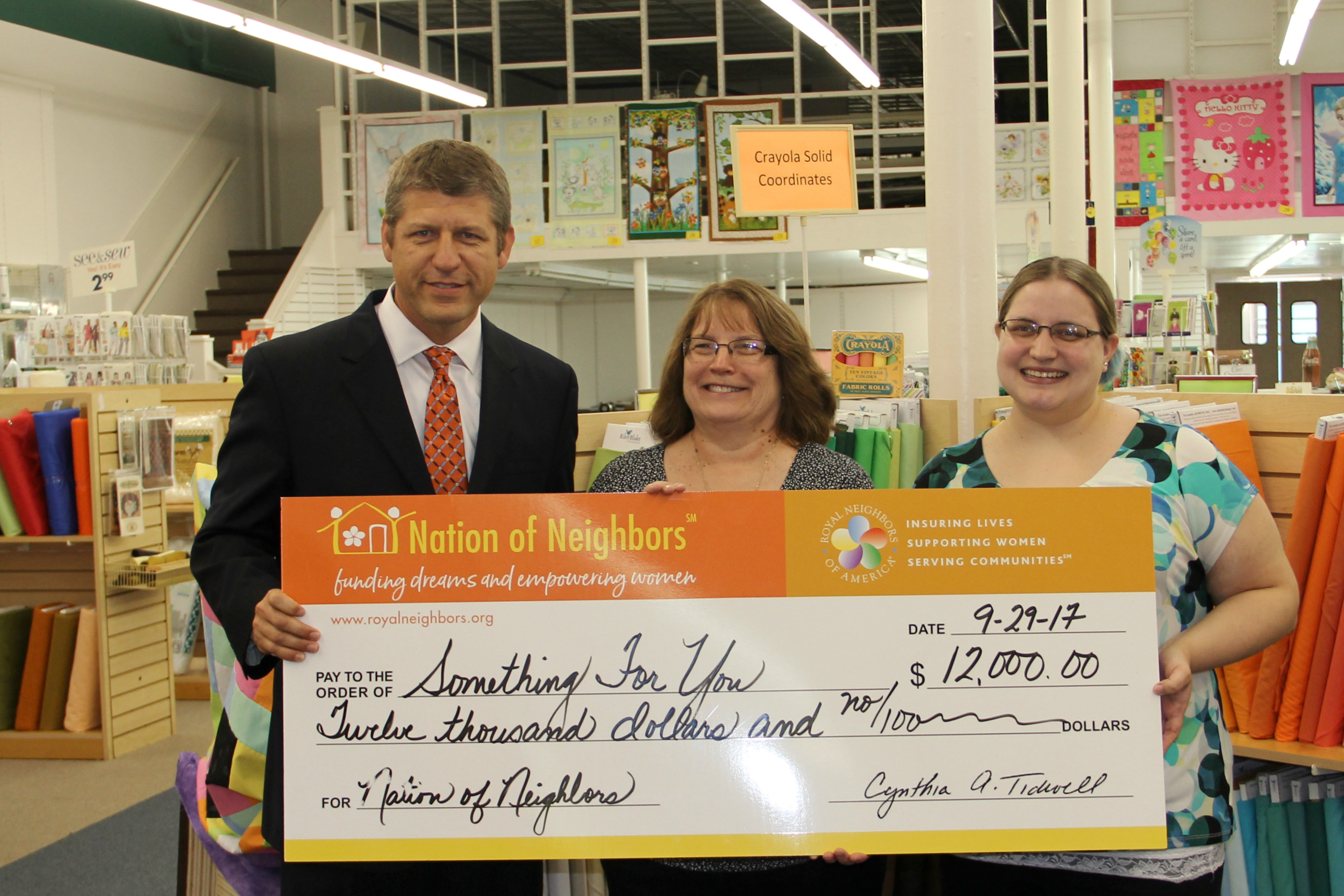 "Something For You" shop offers quilters sewing education and space for charity projects
(Rock Island, IL) — An Atlantic, IA, quilting shop has been awarded a Nation of Neighbors℠ grant for expansion of its small business and community outreach. On Friday, September 29, 2017, Royal Neighbors of America, one of the nation's first and largest women-led life insurers, presented a $12,000 Nation of Neighbors check to Cindy and Katie Koll, the mother-daughter team that founded the Atlantic quilt shop to support local quilters, then opened space to quilt and sewing enthusiasts who craft projects ranging from blankets for the homeless to sewing dresses for African school children.

The monies will be used to expand the business with the purchase of a long-arm quilt machine with a stitch regulator. The machine will help finish customers' projects that require special quilting equipment and stitching, enabling the business to thrive. "This grant allows us to get more quilts done per week," says Cindy Koll. "We have customers who live more than an hour away drive here to buy their fabric or notions. We are truly committed to staying in downtown Atlantic and growing!"

Curt Zeck, Royal Neighbors CIO/Operations Executive, presented the check to the Koll's, with students, customers, and local community business representatives in attendance. "We are honored to not only give the Koll's entrepreneurial dreams a boost, but also support their contributions to help ensure that Atlantic thrives downtown."

Focused on its history of empowering women, the Nation of Neighbors Program has awarded nearly $1.8 million nationwide since 2007. Each year, Royal Neighbors members and insurance sales agents across the country are asked to nominate individuals they know who plan to start or expand a business or an organization that helps women and girls. A panel reviews each nomination and determines the recipients and the monetary amounts awarded.

About Royal Neighbors of America
Royal Neighbors of America, one of the nation's largest women-led life insurers, empowers women to meet the needs of their families with annuities and life insurance products such as whole life, simplified issue, term, and universal life. Royal Neighbors was founded in 1895 and is headquartered in Rock Island, IL, with a branch office in Mesa, AZ. For more information, visit www.royalneighbors.org or call (800) 627-4762.
Form #:P00254; Rev. 10-2017