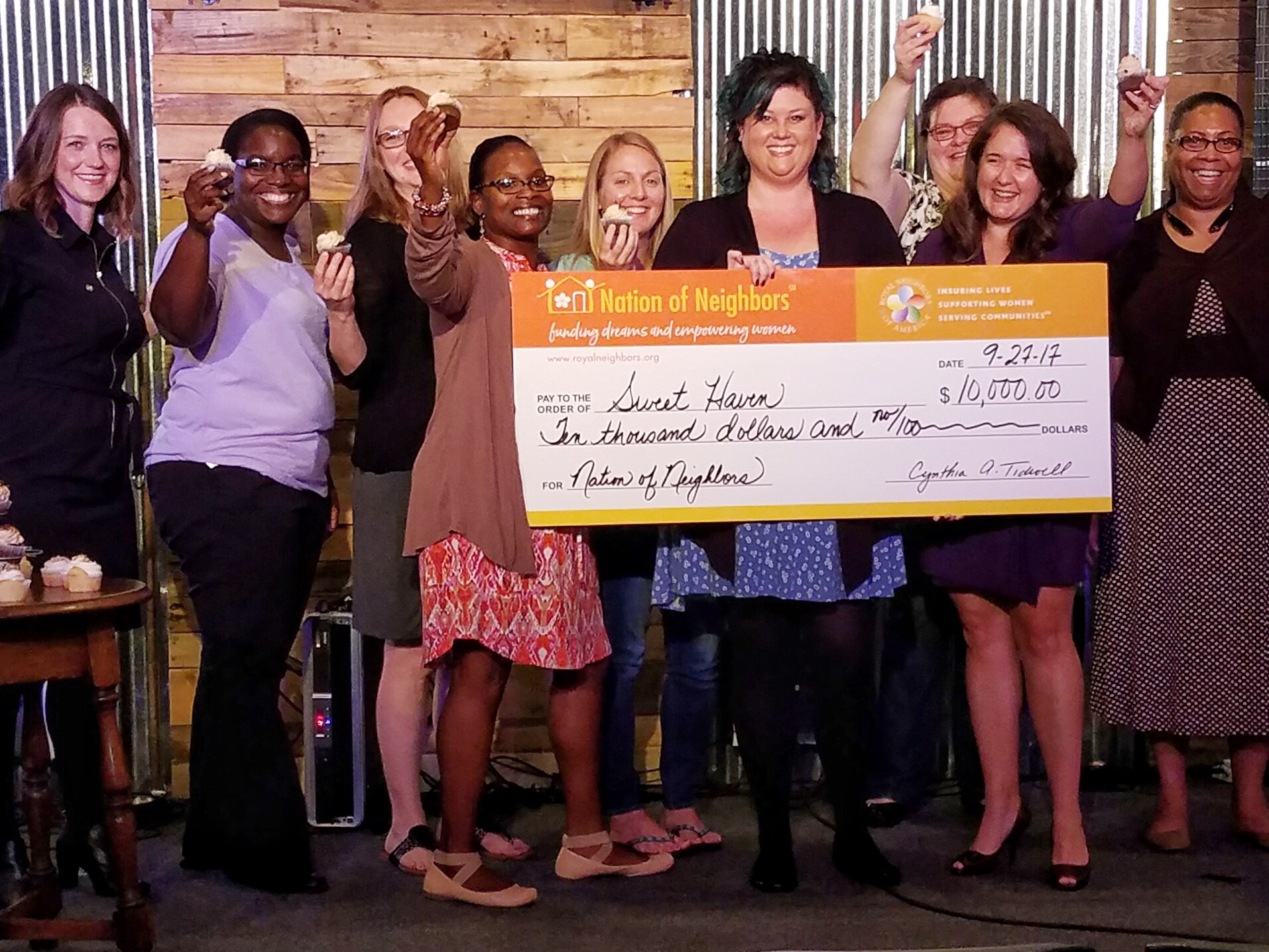 (Rock Island, IL) — A Hampton Roads nonprofit that helps survivors of domestic and sexual violence, as well as stalking and human trafficking, has been awarded a national grant to help its bakery maintain and expand its sweet level of success. The HER Shelter, which stands for Help and Emergency Response, Inc., operates a 24-hour hotline and two shelter facilities in the area, was presented a $10,000 Nation of Neighbors℠ grant to help expand its Sweet Haven Bakery operation. On Wednesday, September 27, 2017, Royal Neighbors of America, one of the nation's first and largest women-led life insurers, presented the check to shelter officials. The Sweet Haven Bakery was opened to provide women recovering from abuse learn workforce development job skills as they transition to independence.

The cupcakery is so successful; it delivers nearly 3,000 cupcakes to area customers every week! Grant monies will help hire a business development and marketing position to grow the bakery's offering, community relationships, awareness, and revenues. H.E.R. Client Services Director and Case Manager Olivia Smithberger says, "Our agency works so hard to be innovative and find new ways to approach helping our clients. This grant gives us the opportunity to put focus more on growth and development. Sweet Haven, at its core, is a work force development program. It was grown out of a need to provide our clients with a safe place to learn employment skills, gain information and certifications, and motivate them to believe in themselves. Our cupcakes are delicious but our ladies are truly the product of our program."

Amy Jones, Royal Neighbors' Director of Philanthropy, presented the check to shelter and bakery representatives. "For more than 120 years, Royal Neighbors' legacy as women-led organization inspires us to support women in their communities. The H.E.R. Shelter and Sweet Haven Bakery were nominated and chosen based on their amazing community impact. We are excited to help them support more women in the Hampton Roads area."

Focused on its history of empowering women, the Nation of Neighbors Program has awarded nearly $1.8 million nationwide since 2007. Each year, Royal Neighbors members and insurance sales agents across the country are asked to nominate individuals they know who plan to start or expand a business or an organization that helps women and girls. A panel reviews each nomination and determines the recipients and the monetary amounts awarded.

About Royal Neighbors of America
Royal Neighbors of America, one of the nation's largest women-led life insurers, empowers women to meet the needs of their families with annuities and life insurance products such as whole life, simplified issue, term, and universal life. Royal Neighbors was founded in 1895 and is headquartered in Rock Island, IL, with a branch office in Mesa, AZ. For more information, visit www.royalneighbors.org or call (800) 627-4762.
Form #:P00252; Rev. 9-2017