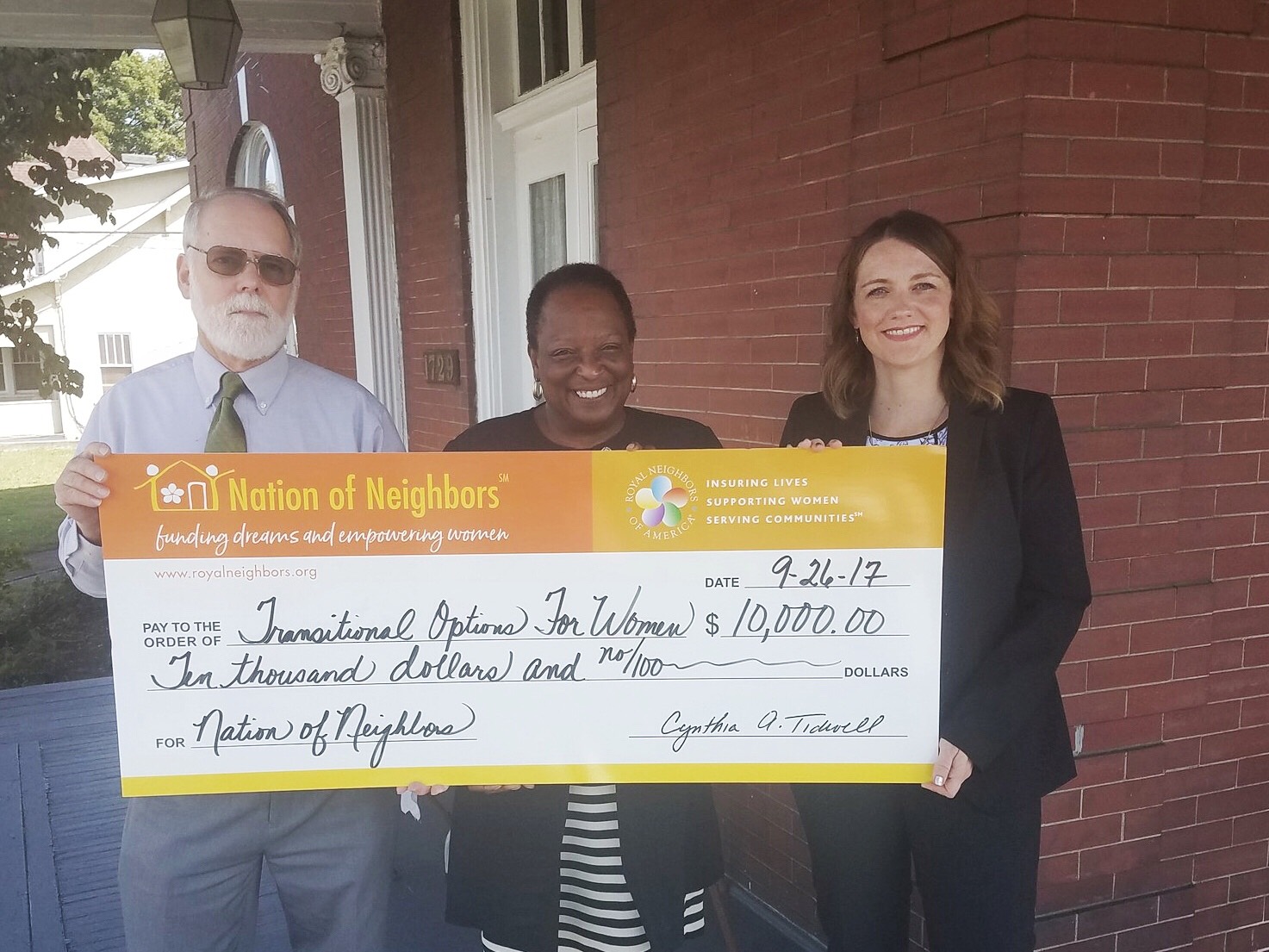 Transitional Options for Women empowers former prison and jail inmates to become self-sufficient
(Rock Island, IL) — A Roanoke nonprofit that helps women who are former prisoners regain their independence has been awarded a Nation of Neighbors℠ grant for program expansion. On Tuesday, September 26, 2017, Royal Neighbors of America, one of the nation's first and largest women-led life insurers, presented a $10,000 Nation of Neighbors check to Transitional Options for Women (TOFW) founder, Dorothy Owsley. TOFW helps Roanoke area women released from jail or prison receive the necessary training, counseling, and interim housing support to rebuild their lives. This donation will be used to renovate a building that will eventually house a coffee shop and thrift store on the first floor, and transitional affordable housing for women on its upper floors. "The grant will help us fulfill a dream," affirms Ms. Owsley. "It will help pay to renovate our building to house a neighborhood coffee shop where patrons can enjoy coffee, and our ladies can also train to gain work experience. The upstairs will be renovated to provide a place for them to live as we help women move forward with their own dreams. WE are the first and only program specifically for women coming out of jail."

Ms. Owsley, a disabled Navy veteran, whose own daughter spent a decade in prison, founded TOFW and its Eight Step Program to serve a unique population that may not have access to community services upon release from jail or prison. "Because I have personal experience when my own daughter went through this very same metamorphosis, I know this home can save lives."

Amy Jones, Royal Neighbors Director of Philanthropy, presented the check. "We are so excited to be able to support Dorothy Owsley, Transitional Options for Women, and the Roanoke community with funds to help change lives – it's what Royal Neighbors is about – empowering women to make a difference in their own communities."

Focused on its history of empowering women, the Nation of Neighbors Program has awarded nearly $1.8 million nationwide since 2007. Each year, Royal Neighbors members and insurance sales agents across the country are asked to nominate individuals they know who plan to start or expand a business or an organization that helps women and girls. A panel reviews each nomination and determines the recipients and the monetary amounts awarded.

About Royal Neighbors of America
Royal Neighbors of America, one of the nation's largest women-led life insurers, empowers women to meet the needs of their families with annuities and life insurance products such as whole life, simplified issue, term, and universal life. Royal Neighbors was founded in 1895 and is headquartered in Rock Island, IL, with a branch office in Mesa, AZ. For more information, visit www.royalneighbors.org or call (800) 627-4762.
Form #:P00253; Rev. 9-2017