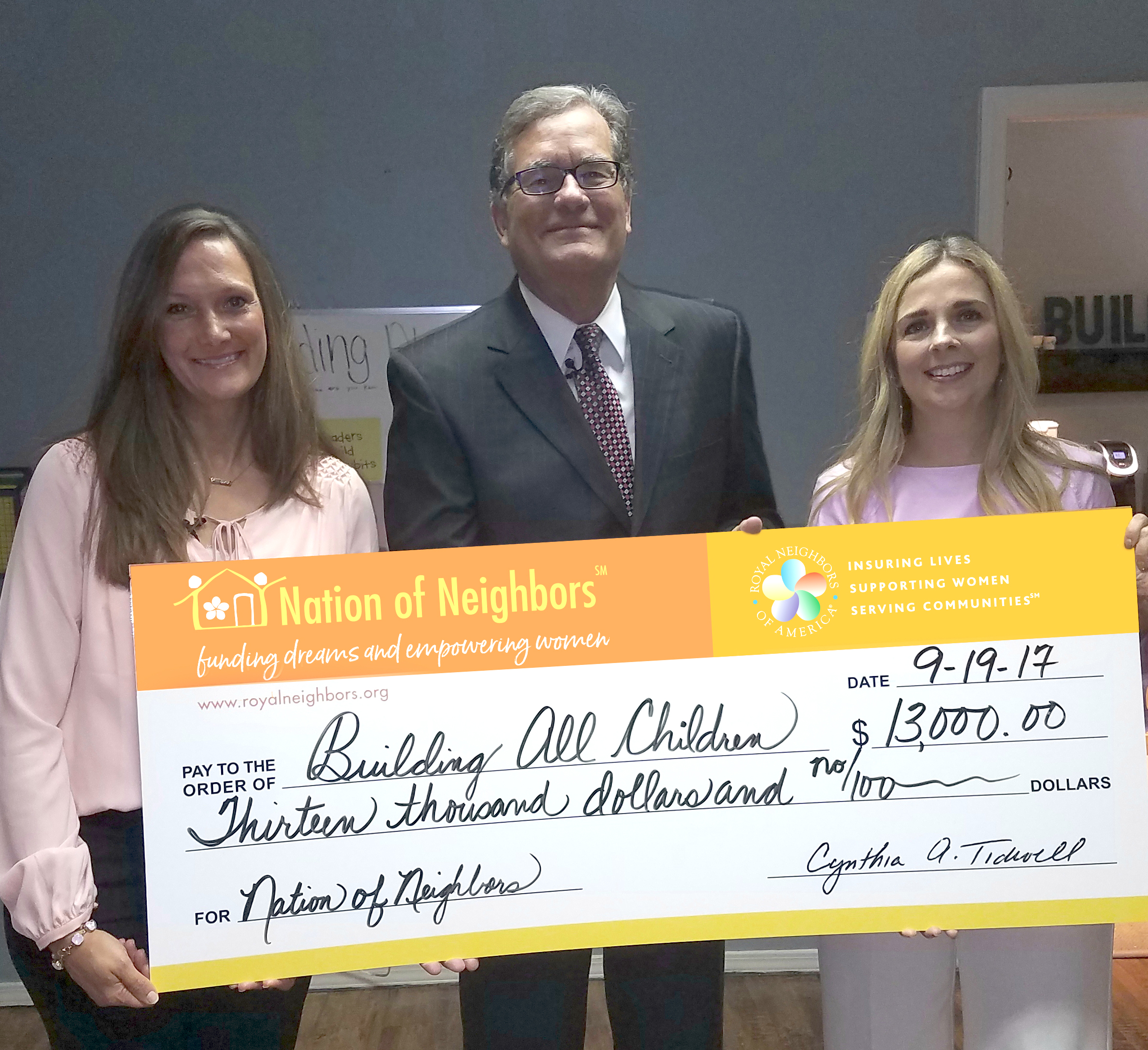 Building All Children empowers Tulsa parents to manage children's learning delays
(Rock Island, IL) — The Oklahoma Institute of Child Advocacy estimates nearly one in four Oklahoma fourth-graders (73%) are not proficient in reading and 67% are not proficient in math. Today, Tulsa's child development organization, Building All Children, received a $13,000 Nation of Neighbors℠ grant from Royal Neighbors of America, one of the largest women-led life insurers in the U.S. The grant will help the Tulsa nonprofit combat the problems of learning and reading in childhood development.

Building All Children serves hundreds of Tulsa families by assessing, screening, and helping families connect with appropriate community resources. The organization helps families understand their child's development, especially students who are exhibiting delays in school. "I have parents calling me who are confused and concerned about why their children are behind in reading or not achieving other developmental milestones like recognizing colors, but they don't know where to go to address the delays," says Kendra Morgan, the founder of Building All Children. Ms. Morgan understands learning difficulties, having lived through her own frustrating school-aged experiences — until college when a counselor helped her change the way she studied to more visual strategies. "In both my own life and through this organization, I understand how confusing and frustrating it can be to see a child falling behind, but not be able to assess the problem or find the resources to help him or her succeed."

Ms. Morgan says the funds will help families who may not otherwise be able to afford critical assessments or therapies, depending on their insurance coverage, or lack thereof. "We believe every child has potential and that they should receive the appropriate assessment and resources to succeed in school. This grant will help us do so." Ms. Morgan says future plans also call for providing more support and materials for training child care providers to spot delays, and building a mother's mentoring group for family support. Chris Seistrup, Royal Neighbors Executive Vice President/COO, presented the check to Building All Children, with children, parents, and child development community advocates in attendance. "Empowering women to help their

communities is what Royal Neighbors of America is all about. Building All Children is changing lives, and we're proud to support Kendra and her team in supporting families in Tulsa."

Focused on its history of empowering women, the Nation of Neighbors Program has awarded nearly $1.8 million nationwide since 2007. Each year, Royal Neighbors members and insurance sales agents across the country are asked to nominate individuals they know who plan to start or expand a business or an organization that helps women and girls. A panel reviews each nomination and determines the recipients and the monetary amounts awarded.

About Royal Neighbors of America
Royal Neighbors of America, one of the nation's largest women-led life insurers, empowers women to meet the needs of their families with annuities and life insurance products such as whole life, simplified issue, term, and universal life. Royal Neighbors was founded in 1895 and is headquartered in Rock Island, IL, with a branch office in Mesa, AZ. For more information, visit www.royalneighbors.org or call (800) 627-4762.
Form #:P00248; Rev. 9-2017