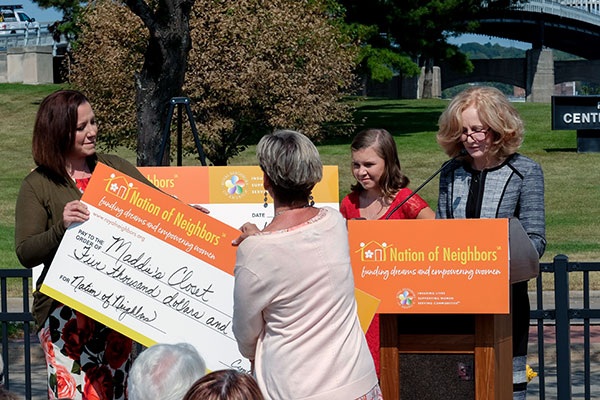 Women-led life insurer inspires attendees to neighbor it forward
(Rock Island, IL)— Royal Neighbors of America presented $15,000 to Rock Island's Kelly Cook to help roll out "Maddie's Closet" to area schoolchildren. The funds from Royal Neighbors' Nation of Neighbors Program are helping Kelly and her daughter, Maddie, transform a retrofitted school bus into a boutique on wheels to deliver clothes to school-aged children and teens.

"This is incredible," said Kelly Cook, upon receiving the grant. "Royal Neighbors has made it possible for us to reach out to local school-aged kids, especially middle school girls, with gently used clothes, accessories, and necessities to help them feel confident and empowered. Girls this age are often embarrassed to ask for clothes, especially if their circumstances won't allow new outfits. We wanted our school bus to feel upscale and unique, so that the kids feel special when picking out their clothes. Now we can literally meet them where they are!"

Kelly and her daughter, a Rock Island seventh-grader, founded "Maddie's Closet" this past summer in the family room of their own home, after Maddie decided to donate her outgrown clothes to children who cannot afford school clothes. Since July, interest in Maddie's Closet has exploded. Already the mother-daughter duo has received hundreds of pounds of gently used donations to outfit about 100 students for school.

Royal Neighbors' check presentation kicked off a 10-year anniversary celebration at the Rock Island Home Office to celebrate the impact of Royal Neighbors' signature Nation of Neighbors Program. Since 2007, the program has awarded nearly $1.8 million nationwide, and in the Quad Cities, local recipients have been presented nearly $400,000.

Cynthia Tidwell, Royal Neighbors President/CEO, says the organization's mission is to give back and empower women to reach their potential and pursue their dreams. "Our Nation of Neighbors Program is built on a legacy of lifting women and their families up to help them make a difference in their own homes, neighborhoods, and communities. Kelly and Maddie have inspired all of us at Royal Neighbors and they're already making an impact, one girl at a time. It's what we're all about."

In addition to the check presentation, 50 randomly selected attendees were surprised with $10 in cash to neighbor it forward with random acts of kindness. "Go buy a cup a coffee for a stranger, top off a gas tank, or pay for a child's school lunch. Be creative in spreading the neighbor-helping-neighbor spirit Royal Neighbors and the Quad Cities is known for," suggested Ms. Tidwell.

Each year, Royal Neighbors members and sales agents across the country are asked to nominate individuals who have a plan to start or expand a business or organization that helps women and girls. A panel reviews each nomination and determines the recipients for the Nation of Neighbors monetary awards. In its anniversary year, Royal Neighbors will present $100,000 to 11 recipients coast-to-coast throughout the United States.

About Royal Neighbors of America
Royal Neighbors of America, one of the nation's largest women-led life insurers, empowers women to meet the needs of their families with annuities and life insurance products such as whole life, simplified issue, term, and universal life. Royal Neighbors was founded in 1895 and is headquartered in Rock Island, IL, with a branch office in Mesa, AZ. For more information, visit www.royalneighbors.org or call (800) 627-4762.
Form #:P00246; Rev. 9-2017