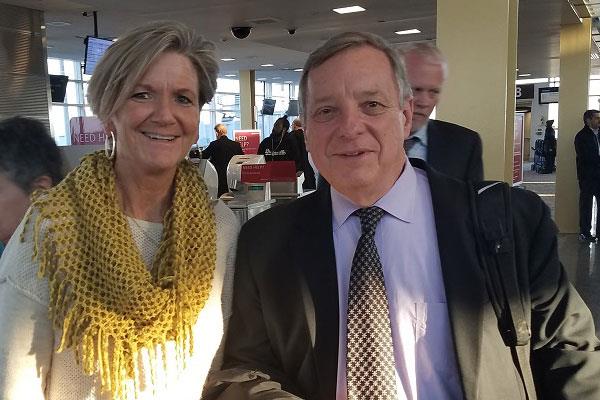 (Rock Island, IL) – Royal Neighbors of America, one of the largest women-led life insurers in the U.S., recently joined efforts with members of the American Fraternal Alliance (AFA) to share inspiring stories of local volunteerism with members of Congress in Washington, D.C.

Darcy Smith, Rock Island, IL, and Terri Jones, Sherrard, IL, two delegates representing Royal Neighbors, focused on two areas. Smith told of Royal Neighbors' founding principles that inspired nine women to start an organization that focused on protecting women financially and empowering them to improve their lives, families, and communities. This was done at a time before women had the right to vote. Royal Neighbors was founded in 1895 and became one of the first to insure women, and then children.
Jones gave an overview of Baskets of Hope, one of the many successful women-focused projects that Royal Neighbors supports. Through this annual event Royal Neighbors members from chapters throughout the U.S. collect hundreds of personal care supplies and assemble them into baskets to donate to help women in crisis.
Joe Annotti, president of the AFA, outlined the hard data of the role fraternal benefit societies serve and the importance and value that well-organized and well-funded volunteerism brings to communities throughout the U.S. More than 41 AFA members from eight different states gave specific examples of how fraternal volunteerism is able to meet the needs of the local community on an almost immediate basis.
The American Fraternal Alliance represents fraternal benefit societies. The AFA distributed key findings that cited nearly 8 million Americans belong to fraternal benefit societies in the U.S. and the annual estimated value of the 75 million volunteer hours from fraternal organizations is estimated to be $3.8 billion.1
"The volunteer actions that Royal Neighbors and other fraternal benefit societies have provided for more than a century are vital to the community," said Cynthia Tidwell, President/CEO of Royal Neighbors. "They serve as 'gap-fillers' that address the financial and social needs of communities that might otherwise go unmet."
Royal Neighbors has more than 200,000 members across the nation volunteering in their communities through its chapter system. In 2016, Royal Neighbors and its members provided $11 million in "social good" from charitable and volunteer activities.
About Royal Neighbors
Royal Neighbors of America, one of the nation's largest women-led life insurers, empowers women to meet the needs of their families with annuities and life insurance products such as whole life, term, simplified issue, and universal life. Royal Neighbors was founded in 1895 and is headquartered in Rock Island, IL, with a branch office in Mesa, AZ. For more information, visit www.royalneighbors.org or call (800) 627-4762.
About the American Fraternal Alliance
The American Fraternal Alliance strengthens and supports its members and the fraternal benefit sector by its leadership in advocacy, policy, information, education, and member services.

---
1Phillip L. Swagel. University of Maryland, School of Public Policy, Center for Financial Policy. (2014). Economic Contributions of Fraternal Benefit Societies: A Five Year Perspective. PDF on file. To request a copy of this study call (480) 970-2521.
Form #:EM2017-68; Rev. 4-2017