Royal Neighbors now accepting applications for its Nation of Neighbors℠ Program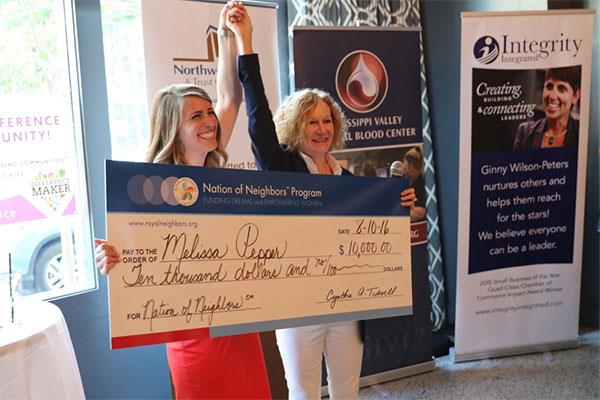 (Rock Island, IL) — Some people may think you have to have super powers or be independently wealthy to help empower women with a $10,000 grant. The folks at Royal Neighbors of America disagree.

Members of Royal Neighbors, one of the largest women-led life insurers in the nation, have the opportunity to submit a nomination now through June 15 for the 2017 Nation of Neighbors℠ Program. Self-nominations are also accepted. Out of the pool of eligible applicants, 10 winners will be selected to receive up to $10,000 in grant money to help them make a difference where they live.
Royal Neighbors' Nation of Neighbors Program provides financial support to help empower individuals to reach new goals, especially those who have a plan to start or expand a business or an organization/group that helps women and girls in their community. In 2016, 10 grants of $10,000 each were presented to women across the country. More than $1.7 million has been awarded since the program was launched in 2007.

Examples of past grant winners' initiatives include: Launching an organization that brings female leaders together to mentor young women; opening a furniture refinishing business to help provide jobs for women in transition; and publishing a teen magazine focused on empowering young women.

For more information about the Nation of Neighbors Program and past winners, how to become a Royal Neighbors' member, or how to submit a nomination for the 2017 program, visit http://www.royalneighbors.org/more-than-insurance/nation-of-neighbors or call (309) 732-8265.
About Royal Neighbors
Royal Neighbors of America, one of the nation's largest women-led life insurers, empowers women to meet the needs of their families with annuities and life insurance products such as whole life, term, simplified issue, and universal life. Royal Neighbors was founded in 1895 and is headquartered in Rock Island, IL, with a branch office in Mesa, AZ. For more information,visit www.royalneighbors.org or call (800) 627-4762.
Form #:EM2017-69; Rev. 3-2017