Royal Neighbors goes beyond consumer expectations for doing social good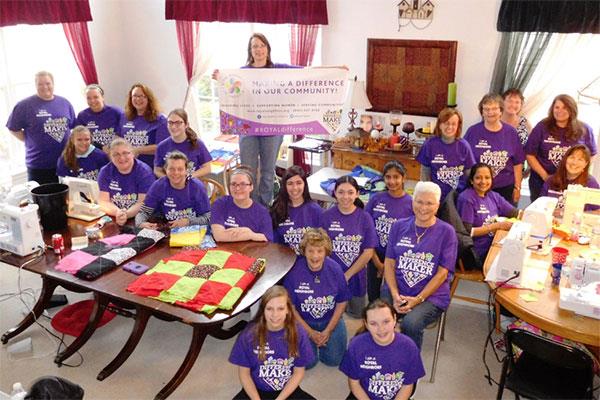 (Mesa, AZ) Kindness counts – especially in corporate America. Consumers are keeping tabs on the companies they do business with and the growing expectation is to be nice – or else.
Being nice refers to corporate social responsibility (CSR) – supporting charities, adopting greener practices that reduce the size of their carbon footprint, treating employees fairly and ethically, and having their employees volunteer in the community.
An international study conducted by Cone Communications and Echo Research revealed that more than 90 percent of shoppers worldwide are more likely to do business with an organization or company that supports a good cause.1 The impact is significant and customers who are not satisfied with a company's CSR are voting with their feet.

Although many companies are now realizing the importance of giving back, Royal Neighbors of America, one of the nation's largest women-led life insurers, understood it from the beginning. It was founded by nine women who believed that social responsibility was not a catch phrase, it was a core value that remains a part of the organization today, 122 years later. Established in 1895, Royal Neighbors was founded on the dual mission of providing financial protection through life insurance and "neighbor-helping-neighbor" community service.

"I define social good as not only doing good for others, but empowering others to make positive contributions as well," said Cynthia Tidwell, president/CEO of Royal Neighbors, one of the largest women-led life insurers in the U.S. "Grassroots social good is not new to Royal Neighbors. It's who we are and always have been."

Today, Royal Neighbors has more than 200,000 members across the nation volunteering in their communities through its chapter system. The impact has been significant. In 2016 Royal Neighbors and its members provided $11 million in "social good" from charitable and volunteer activities.

In addition to its chapter system focusing on grassroots community programs, Royal Neighbors also sponsors a variety of philanthropic programs to help both its members and/or the general public. Philanthropic programs include Nation of Neighbors ℠, scholarships, Difference Maker Fund, Make a Difference Day, a member benefits program, and grassroots volunteering through local chapters.


About Royal Neighbors
Royal Neighbors of America, one of the nation's largest women-led insurers, empowers women to meet the needs of their families with annuities and life insurance products such as whole life, simplified issue, term, and universal life. Royal Neighbors was founded in 1895 and is headquartered in Rock Island, IL, with a branch office in Mesa, AZ. For more information, visit www.royalneighbors.org or call (800) 627-4762.

Member benefits are provided at the discretion of Royal Neighbors of America and are not available in all states. They are not part of any insurance or annuity contract and are not guaranteed. Royal Neighbors is licensed in 43 states and the District of Columbia and not all products are available in all states.

1Social responsibility no longer optional for businesses, Chad Brooks, Fox Business Small Business Center, May 22, 2013 page 1. http://smallbusiness.foxbusiness.com/marketing-sales/2013/05/24/social-responsibility-no-longer-optional-for-businesses/ PDF on file.
Form #:EM-2017-10; Rev. 3-2017