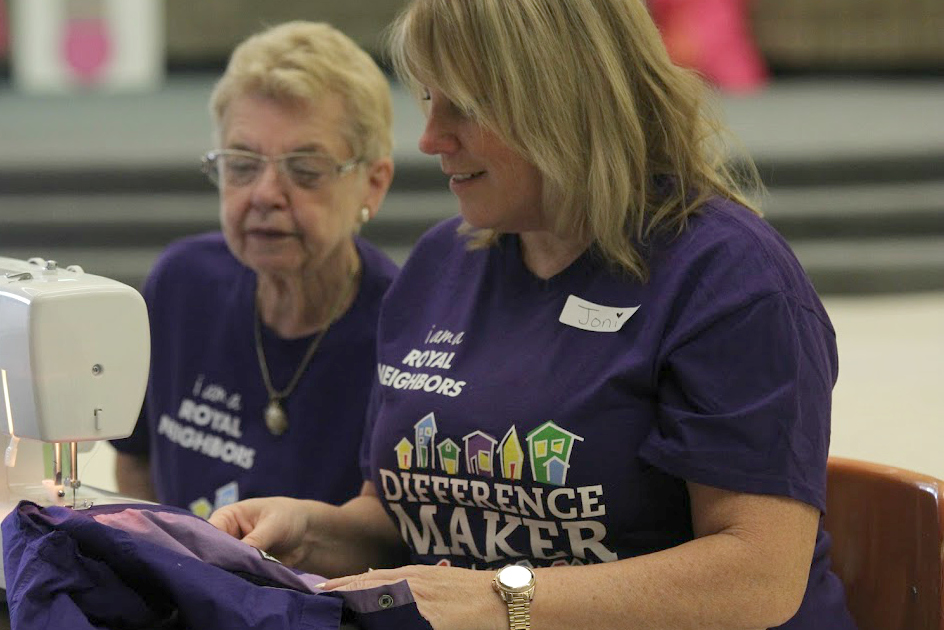 Royal Neighbors Difference Maker Fund volunteers host sew-a-thon and fashion show

(Rock Island, IL) – Orphaned and underprivileged girls received hand-made sundresses and their new attire was modeled at a special fashion show thanks to the efforts of the Difference Maker Stitching A Legacy team from Viola, IL.

The volunteers from Stitching A Legacy created 50 dresses in one afternoon that were donated to girls in domestic violence shelters, half-way homes, refugee safe places, and hospitals, as well as an orphanage in the Philippines called The Legacy Home Orphanage.

Now Stitching A Legacy can do even more.

The volunteer project received a $200 mini grant from Royal Neighbors of America's Difference Maker Fund (DMF). Each quarter the DMF project with the most online votes receives $500 in additional funds to donate to the charity that is affiliated with its project. Stitching A Legacy won the most online votes and will receive an additional $500 for a future project.

"Stitching A Legacy's Difference Maker sew-a-thon and fashion show were a complete success," said McKara Caldwell who spearheaded the project. "The volunteers had a blast serving their community in a fun way, and everyone was proud of their efforts."

The Difference Maker Fund Program is a member benefit* launched by Royal Neighbors in 2016, giving its members an opportunity to receive $200 in seed money to organize and complete community service projects that align with Royal Neighbors' vision to protect women financially and empower them to improve their lives, families, and communities. The funds are distributed to Royal Neighbors members who, with their friends and family, carry out their Difference Maker projects. More details are available at http://www.royalneighbors.org/more-than-insurance/difference-maker-fund.

About Royal Neighbors
Royal Neighbors of America, one of the nation's largest women-led life insurers, empowers women to meet the needs of their families with annuities and life insurance products such as whole life, term, simplified issue, and universal life. Royal Neighbors was founded in 1895 and is headquartered in Rock Island, IL, with a branch office in Mesa, AZ. For more information, visit www.royalneighbors.org or call (800) 627-4762.

*Member benefits are provided at the discretion of Royal Neighbors of America and are not available in all states. They are not part of any insurance or annuity contract and are not guaranteed. Royal Neighbors is licensed in 43 states and the District of Columbia and not all products are available in all states.
Form #:P00208; Rev. 2-2017