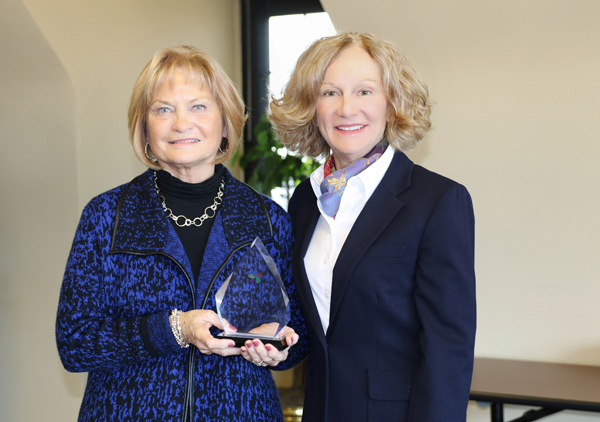 Rita Toalson receives Royal Neighbors' 2016 Employee of the Year Award
(Rock Island, IL) – For 39 years Rita Toalson has diligently highlighted the accomplishments of her employer, Royal Neighbors of America. Recently the limelight shone in her direction when Royal Neighbors named Toalson the recipient of Royal Neighbors' 2016 Employee of the Year Award. As managing editor for Royal Neighbors she is responsible for corporate and member communications.

Toalson's contributions were monumental. She led several very strategic projects such as the acceptance of Royal Neighbors items into the Smithsonian's National Museum of American History and the International Quilt Study Center & Museum in Lincoln, NE. She also garnered publicity from the San Francisco Examiner in connection with a newly discovered letter from a Royal Neighbors member about the conditions following the great San Francisco earthquake of 1906 that the Examiner printed in its entirety.

"Rita was the first Royal Neighbors person I talked to after I was hired," said Cynthia Tidwell, President/CEO of Royal Neighbors, one of the largest women-led life insurers in the U.S. "In the many years I have known her she has shown she is often the first to arrive to work, the first to offer creative solutions, and the first to offer a helping hand. I am very pleased to be the first to congratulate her for this very-deserved honor."

An excerpt from the judges' comments read: Ms. Rita Toalson met and exceeded the majority of the Employee of the Year Criteria and exhibited behavior and leadership that embodied the characteristics RNA looks for in their leaders. She not only accomplished important goals within her scope of duties, but also willingly assisted colleagues outside of her position responsibilities. Last, but certainly not least, she has consistently modeled many RNA values including loyalty, dedication, endurance, and humility throughout her 39 years of service.

The Employee of the Year award program was created to annually recognize an employee who demonstrates professionalism and integrity; embraces innovation; shares knowledge and resources with others; supports the organization's mission to financially protect and empower women; and goes above and beyond to respond to external and internal customers. The recipient must also embrace Royal Neighbors' strong philanthropic focus on neighbor-helping-neighbor community action. Employees are nominated for this prestigious award by fellow co-workers and the winner is determined by a panel of outside judges. As part of her award, Toalson will be invited to attend Royal Neighbors' life insurance agent recognition trip in Punta Mita, Mexico in June.

About Royal Neighbors
Royal Neighbors of America, one of the nation's largest women-led life insurers, empowers women to meet the needs of their families with annuities and life insurance products such as whole life, term, simplified issue, and universal life. Royal Neighbors was founded in 1895 and is headquartered in Rock Island, IL, with a branch office in Mesa, AZ. For more information, visit www.royalneighbors.org or call (800) 627-4762.
Form #:P00206; Rev. 2-2017