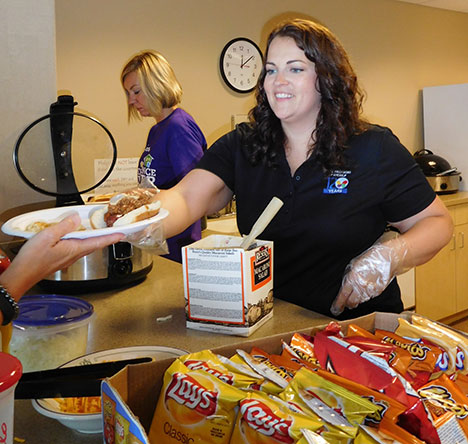 (Mesa, AZ) – They say it is better to give than receive, but Royal Neighbors, one of the largest women-led life insurers in the U.S., is making it possible for two volunteer groups to receive so they can give even more.

The volunteer projects, Dog Days of Summer and Handy Hands, received $200 mini grants from Royal Neighbors' Difference Maker Fund (DMF). Each quarter the DMF project with the most online votes receives $500 in additional funds to donate to the charity that is affiliated with its project. This quarter two projects tied for first place.

One winner was the Dog Days of Summer, a fundraiser for the Kings Harvest Ministries' (KHM) animal and human shelters in Rock Island, IL. The second winner was Handy Hands, a volunteer group that crocheted and made fleece-tied blankets, hats, and scarves for the Perry House, a home for unwed mothers and their children in Fargo, ND. The group also donated hats and scarves to Churches United in Moorhead, MN, to help members of the homeless community stay warm.

The Dog Days of Summer project, led by Jamie Humenick, raised $1,617.36 by hosting a luncheon, bake sales, silent auction, raffles, famous dog trivia, and other projects. The volunteer group of 15 individuals also collected a variety of items for the shelters such as pet supplies, household supplies, and personal care products.

In addition to a shelter for people, KHM also provides pet rescue assistance programs that provide free pet food, pet surrender opportunities, and temporary homes for pets and low-cost spaying/neutering for the pets of homeless and low income families in the Rock Island area.

With the extra $500 the Dog Days of Summer project received from Royal Neighbors, the group was able to donate more than $2,000 to KHM.

Handy Hands, headed by Janet Nelson, enlisted the crocheting skills of nine individuals to create colorful blankets, hats, and scarves to help keep less fortunate members of their community warm. A total of 31 fleece-tied blankets was donated to Perry House in Fargo. The volunteers also donated hats and scarves to Churches United in Moorhead to help members of the homeless community better endure the cold. The $500 donation the group received from Royal Neighbors will be equally split between the Perry House and Churches United.

"It's amazing how the kind and earnest efforts of our Difference Maker Fund volunteers are changing their communities for the better," said Matt Mendenhall, director of philanthropy for Royal Neighbors. "Even small contributions are having a big impact. We invite individuals to learn about our Difference Maker Fund Program and see how easy it is to become a Difference Maker with Royal Neighbors."

The Difference Maker Fund Program was launched by Royal Neighbors in 2016, giving members an opportunity to receive $200 in seed money to organize and complete community service projects that align with Royal Neighbors' vision to protect women financially and empower them to improve their lives, families, and communities. The funds are distributed to Royal Neighbors members who, with their friends and family, carry out their Difference Maker projects. More details are available at http://www.royalneighbors.org/more-than-insurance/difference-maker-fund.

About Royal Neighbors of America
Royal Neighbors of America, one of the nation's largest women-led life insurers, empowers women to meet the needs of their families with annuities and life insurance products such as whole life, term, simplified issue, and universal life. Royal Neighbors was founded in 1895 and is headquartered in Rock Island, IL, with a branch office in Mesa, AZ. For more information, visit www.royalneighbors.org or call (800) 627-4762.

Member benefits are provided at the discretion of Royal Neighbors of America and are not available in all states. They are not part of any insurance or annuity contract and are not guaranteed. Royal Neighbors is licensed in 43 states and the District of Columbia and not all products are available in all states.
Form #:P00195; Rev. 12-2016