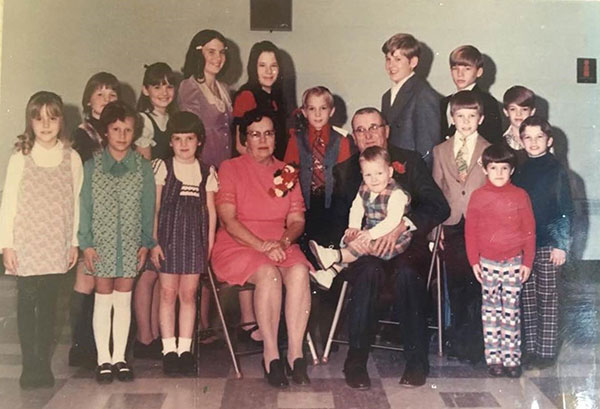 Why More Grandparents Are Purchasing Non-Traditional Gifts


(Rock Island, IL) – The family tradition started over 80 years ago with the birth of Ora and Fred Shawback's first grandchild. Rather than going the conventional route, when the Illinois couple welcomed a new grandbaby into their family they purchased the infant a life insurance certificate from Royal Neighbors of America.
It was a process that was repeated six times, once for each grandkid born in the late 1930s. However, the tradition of purchasing life insurance pre-dates the era of the Shawback's grandchildren. Fred and Ora Shawback purchased certificates on their own children in the 1910s. They also purchased certificates for themselves in the early 1900s, making the couple one of the first to obtain life insurance through Royal Neighbors. Royal Neighbors was founded in 1895.
Three out of five of the Shawback's surviving grandchildren, Nancy Jean Swift Baer, Mary Ann Swift Beenenga, and Irene Swift Huss (now in their 70s and 80s) still have their original life insurance certificates from Royal Neighbors. And, following the family custom, Nancy's parents, Gwen and Ralph Swift, purchased life insurance for each of their 15 grandchildren. The seven girls and eight boys were born between 1958 and 1971.
When one of Gwen and Ralph Swift's grandchildren, Tracy Kotecki,* and her husband had children of their own, they researched other life insurers and options, but in the end they went with the family favorite.
"When my husband and I purchased life insurance for our sons I trusted Royal Neighbors would be there for the long haul," said Tracy. "Royal Neighbors has been part of our family for five generations. And one of these days when I'm a grandma, I hope to make it six."
A New Generation of Grandparents
Although times have changed, the wisdom of purchasing life insurance for a baby or child is still sound, and is experiencing wider appeal – especially among Baby Boomer grandparents. This generation has cash to spend, but many grow weary of buying toys that break or outfits the little ones will outgrow in a season.
Below are a few tips for those interested in purchasing the gift of life insurance for a grandchild or child.
1. Obtain permanent life insurance coverage – a gift that can last a lifetime.
Whole life is a form of permanent life insurance which means the child continues to be insured, regardless of changes in her or his health condition, as long as the certificate remains in force and the premiums are paid. Additionally cash value can be accumulated with whole life insurance, providing future options for a loan against the certificate for expenses such as college. The premium payments are guaranteed to never increase.
2. Purchasing youth life insurance at younger ages locks in lower premium rates.
Did you know the cost of life insurance increases with age? Age and health are two of the key factors in determining the cost of life insurance premiums. Since young children are typically healthy it's financially prudent to purchase life insurance for a grandchild or child as early as possible to lock in lower premium rates.
3. Consider adding a guaranteed insurability rider to the child's certificate.
It guarantees that she/he can purchase additional life insurance at a later date without undergoing a new medical exam.
About Royal Neighbors
Royal Neighbors of America, one of the nation's largest women-led life insurers, empowers women to meet the needs of their families with annuities and life insurance products such as whole life, simplified issue, term, and universal life. Royal Neighbors was founded in 1895 and is headquartered in Rock Island, IL with a branch office in Mesa, AZ.
Member benefits are provided at the discretion of Royal Neighbors of America and are not available in all states. They are not part of any insurance or annuity contract and are not guaranteed. Royal Neighbors is licensed in 43 states and the District of Columbia and not all products are available in all states.
For more information, visit www.royalneighbors.org or call (800) 627-4762.
*Tracy has been a Royal Neighbors employee since July 2013.
Form #:P00192; Rev. 11-2016