With a $10,000 Grant from Royal Neighbors of America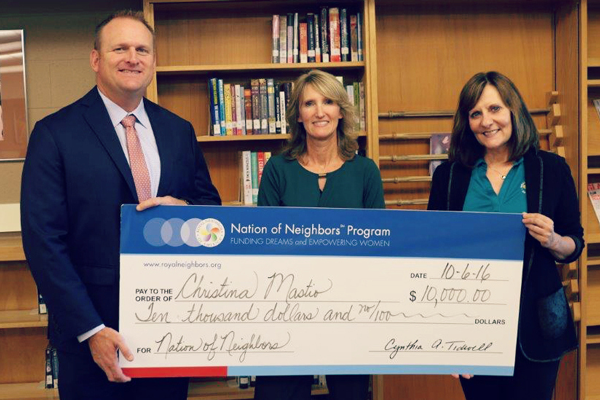 Christina Mastio of Parkville, MO, knows what it takes to make miracles happen. With the help of a $10,000 grant from Royal Neighbors of America's Nation of Neighbors Program, she will expand Northland Miracles, the nonprofit she co-founded to help identify and rectify gaps in service to women and children in partnership with schools and social workers. Her organization embodies the core values of partnership, transformation, and inspiration as it works to meet the basic needs of children to help them succeed in school. Christina is shown at center with Mary Staver, Royal Neighbors' Human Resources Executive, and Matthew Kuhn, who nominated Christina for the grant.
About Nation of Neighbors
Nation of Neighbors provides support to help empower individuals to reach new goals, especially those who have a plan to start or expand a business or an organization/group that helps women and girls in their community. Ten grants of $10,000 each are being awarded across the U.S. in 2016. More than $1.7 million has been awarded since the program was launched in 2007.
About Royal Neighbors
Royal Neighbors of America, one of the nation's largest women-led insurers, empowers women to meet the needs of their families with annuities and life insurance products such as whole life, simplified issue, and universal life. Royal Neighbors was founded in 1895 and is headquartered in Rock Island, IL, with a branch office in Mesa, AZ. For more information, visit www.royalneighbors.org or call (800) 627-4762. Royal Neighbors is licensed in 43 states and the District of Columbia and not all products are available in all states.
Form #:P00170; Rev. 10-2016