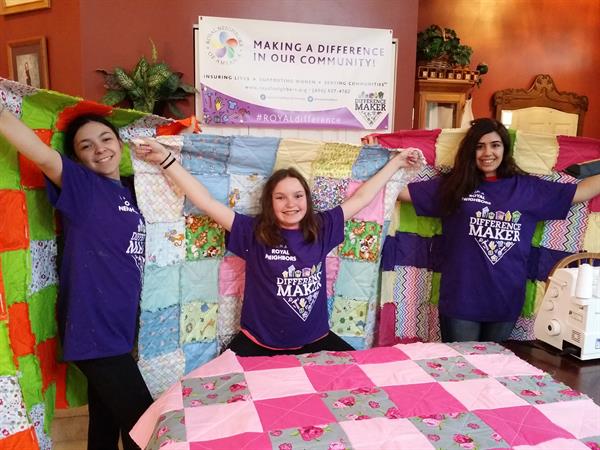 Generations Working Together for Award-Winning Difference
Maker Project
(Rock Island, IL) – Several generations of females made a hand-made connection through quilting thanks to a grant by Royal Neighbors of America, one of the largest women-led life insurers in the U.S.
The project, Stitching for Comfort, paired experienced and novice seamstresses in a multi-generational effort to teach girls and women how to sew by making quilts. Although quilting is a multi-million dollar business today, it has a patterned, rich history of bringing women together to socialize and create items of warmth and protection. Stitching for Comfort, the brainchild of Lucy Blasi, originated in 2013 from Lucy's desire to teach her daughter and a few friends how to sew. Then the scope of the projected unfolded to embrace something more and the group, called Sew Fabulous, started charity sewing.
"I thought it would be a good idea to show the girls we could do something good for others with the sewing skills they had been learning," said Lucy. "I knew Royal Neighbors did a lot for the community. What I didn't realize was how much they support the things that are important to me."
The colorful results were then donated to serve as a source of comfort during trying times. To date 29 quilts have been created. Six of the hand-made items were donated to the Waterford Place Resource Center, five were given to Breast Intentions, and three are comforting individual seniors in home care. The remaining quilts will be donated to the Rush Copley Hospital in Aurora, IL.
Nearly 500 volunteer hours were clocked by the 28 individuals who donated their time and skill for the project. The community also pitched in with donated fabric, quilting squares, batting, and even treats and bottled water to keep the quilters going.
When Lucy's family members learned what she was doing, and because they knew she was a member of Royal Neighbors, they encouraged her to apply for a mini grant through the newly-launched Difference Maker Fund.
Royal Neighbors' Difference Maker Fund supplied the grant as part of a new program that encourages members to volunteer and make a difference in their local community. Members* can get $200 in seed money for a community project that supports a charitable cause helping women and/or girls, supports women who organize and complete community service projects, or supports financial literacy opportunities for women, girls, or other community groups. The funds are distributed to Royal Neighbors members who, with their friends and family, carry out their Difference Maker projects.
More details are available at http://royalneighbors.org/more-than-insurance/difference-maker-fund.
Although the short-term project for the Difference Maker Fund is complete, the rewards continue for both Sew Fabulous and the recipients of their gifts. Stitching for Comfort was also voted the first winner of a quarterly Difference Maker project contest, enabling Lucy to donate $500 to her favorite charity, the Waterford Cancer Resource Center.
About Royal Neighbors
Royal Neighbors of America, one of the nation's largest women-led life insurers, empowers women to meet the needs of their families with annuities and life insurance products such as whole life, simplified issue, and universal life. Royal Neighbors was founded in 1895 and is headquartered in Rock Island, IL, with a branch office in Mesa, AZ. For more information, visit www.royalneighbors.org or call (800) 627-4762.
*Member benefits are provided at the discretion of Royal Neighbors of America and are not available in all states. They are not part of any insurance or annuity contract and are not guaranteed.
Form #:P00173; Rev. 9-2016