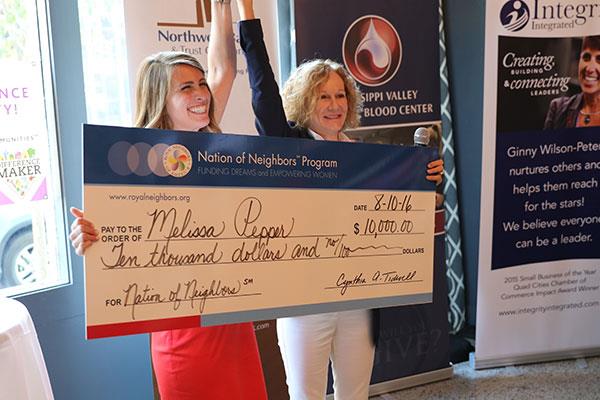 (Rock Island, IL) -- From busting a move in Milwaukee to preparing young women in Chesapeake to becoming college-educated leaders in their communities, Royal Neighbors of America, one of the largest women-led life insurers in the U.S., is making dreams come true through its Nation of Neighbors Program.
Ten Nation of Neighbors recipients will receive grants of $10,000 each in 2016. Grant recipients' causes vary from tackling serious issues such as preventing homelessness and providing outreach programs for women and girls being trafficked into street prostitution, to educational programs designed to improve health, build entrepreneurial skills, and enjoy the joy of connecting to the arts through dance. The underlying themes in all cases is connection, education, and empowerment.
Nation of Neighbors is Royal Neighbors' signature program that provides support to help empower individuals to reach new goals, in particular those who have a plan to start or expand a business or group that helps women and girls in their community. More than $1.7 million has been awarded since the program was launched in 2007.
The following is a list of the Nation of Neighbors winners and how they will use their grants:
Melissa Pepper from Davenport, IA will launch Lead(h)er, a nonprofit organization she founded to connect young professional women with experienced leaders in an effort to fuel career and community engagement.

Arlene Malone, the founder of R-E-A-D group (Rejuvenating Excellence and Accomplishing Dreams) in Chesapeake, VA, will use her grant to ramp up her efforts to help young girls prepare and enter college and eventually become leaders in their communities.

Margaret Greer-Gogo, Bolingbrook, IL, will kick off Pearls of Wisdom Academy, an organization that offers classes that help women dress for success, improve their parenting skills, and learn budgeting, credit repair, and insurance and financial planning.

Heather Doering, Canton, MI, plans to expand her organization, IN3 Network, which provides inspiration, information, and innovation to women entrepreneurs.

Liz Pitcher, Indianapolis, IN, will increase her efforts to provide outreach programs to rescue women and girls being trafficked through street prostitution and provide them support services that can help them lead happy, healthy lives.

Lena Council, Elizabeth City, NC, founder of Dreamer's Entrepreneurial Club, will increase her efforts to help women and girls establish companies that produce a salable product and learn entrepreneurial skills such as selecting a company name, making presentations, marketing their products, and writing a business plan.
Desiree Cocroft, Milwaukee, WI, and her nonprofit Signature Dance Company provides dance instruction and an appreciation of the arts to low-income and minority girls.

Christina Mastio, Parkville, MI, will continue her efforts to help impoverished women and girls meet their basic needs and provide educational tools so they avoid homelessness and move toward self-sufficiency.

Janita Pavelka, Oxford, NE, will further her efforts to provide education classes to help women and middle and high school teens learn how to start a business.

Amanda Olson, Moline, IL, will complete Mad Roots Urban Aquaponics farm, a gardening project that doesn't use soil or fertilizer, and help educate consumers on ways to improve their health by reducing their exposure to harmful chemicals that are often used in soil-based crops.

About Royal Neighbors
Royal Neighbors of America, one of the nation's largest women-led insurers, empowers women to meet the needs of their families with annuities and life insurance products such as whole life, simplified issue, and universal life. Royal Neighbors was founded in 1895 and is headquartered in Rock Island, IL, with a branch office in Mesa, AZ. For more information, visit www.royalneighbors.org or call (800) 627-4762. Royal Neighbors is licensed in 43 states and the District of Columbia and not all products are available in all states.
Form #:P00175; Rev. 9-2016