Spotlighting Royal Neighbors members who share our passion for making a difference.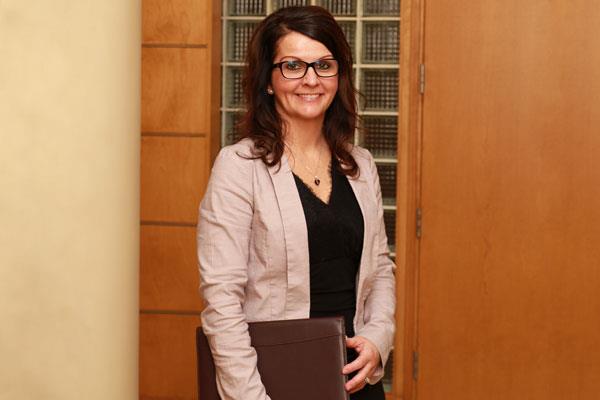 November is National Philanthropy Month. To celebrate Royal Neighbors' legacy of empowering women and building communities, meet Juliet Christenson, Product Development Manager at Royal Neighbors, whose joy of service knows no bounds — from little leaguers to professional golf caddies and supporting victims of domestic violence and sexual assault.
A Voice for the Voiceless

How did volunteerism become such an integral part of your life?
I was raised in a Catholic family and graduated from a Catholic school. Service is just a part of your life. Growing up, my parents volunteered at our school and with our sports teams.


As a busy parent how did you get creative and still find time to volunteer?
I looked for opportunities in the things I was already doing. I was the head room parent for both of my boys as they were growing up. I organized many holiday parties, special activities and events. I also became the president of Rock Island American Little League and president of the Quad City A's (a travel baseball team). We spent a lot of time at the baseball field over the years. As the president, I presided over board meetings, established strategies, determined budgets, hired coaches, operated concession stands, helped coach and anything else that was needed to move the leagues forward.


In 2017, you've logged more than 800 volunteer hours! How do you juggle it all?
As my kids were growing up and moving on I found myself without all of their activities and I felt like there was a void. My husband and I are now empty nesters, so we are able to do more with our community. We both take a week off of work in the summer and spend it working together at the John Deere Classic Golf Tournament.


How do you help at the tournament?
I am a co-chairperson for the Caddie Committee. My husband had been volunteering for years and I would go to the Classic to spend time with him and watch some great golf. Again, I thought if I was going to be there I might as well do something to help. We spend all year planning and preparing for the event. Although the week itself is exhausting, it is also fun and rewarding. In 2017, the tournament was able to give 12.2 million dollars to local charities. It is a great feeling knowing that I was able to help make that happen.


You have a special calling to provide advocacy for victims of domestic violence and sexual assault. What compelled you to pursue this unique avocation?
I know this is a huge problem in our society and I've wanted to help for a while. I attended the Rise Up luncheon hosted by Family Resources, a social services agency in the Quad Cities. The speaker at that event was so moving. Right then I knew this is what I was being called to do. I signed up to volunteer that day.


What kinds of volunteering support do you provide?
I am on call a couple of weekends a month from 5 p.m. on Friday until 5 p.m. on Sunday. When people who have been a victim of domestic violence or sexual assault checks into a local emergency room, I receive a call to respond. My role at the hospital is to be their medical, legal, general and personal advocate. I help them understand what is going to happen while they are there. I let them know what their rights are and provide them choices. I help them create a safety plan and provide them information about services that are available to them free of charge. But most of all I am there to provide moral support. I am there to hold their hand and let them know that what has happened is not their fault.


You must be very strong to help those in such vulnerable circumstances. Does it take special training?
There is a comprehensive 64 hours of training that must be completed before you can provide services. Although this training is extensive, each and every situation is unique and equally as heartbreaking. Unfortunately what keeps me going is that there is such a need for these services in our community.


How has working at Royal Neighbors supported your love for volunteering?
Working at Royal Neighbors for the last 26 years has provided me even more opportunity to give back to my community. I have been involved in countless chapter activities during this time – everything from leading a fund-raiser lunch to painting a children's therapy center. I have participated in the national Make a Difference and Join Hands Days. I have organized several United Way Days of Caring and a United Way hygiene drive. My favorite activity by far though has been purchasing Christmas gifts for children whose names are on our angel tree.


What is your advice to others, especially working mothers, who may feel they don't have time to volunteer?
Look at the things you are already doing (attending school functions, sporting events, dance recitals, etc.) and find a way to get involved. There is always a need for volunteers, no matter how big or how small your contribution is. You can make a difference.


If you know a Royal Neighbors member who shares our spirit of service, share her or his story us at philanthropy@royalneighbors.org.