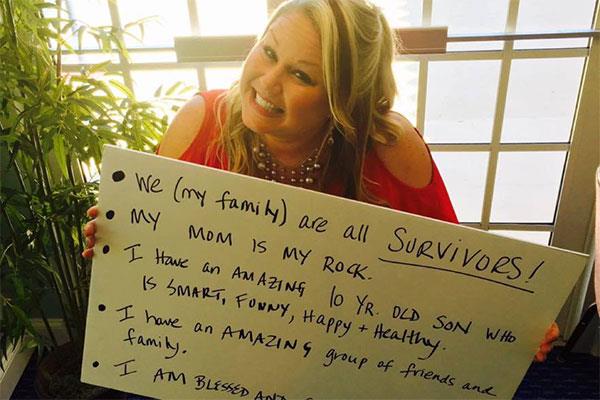 Each model stood on the runway nervously awaiting her turn. Before she took her first steps she held up a sign. In a few words the tragedy that nearly crushed her life and spirit was reduced to words on a 2' by 3' poster.
The messages were from Barbara, who battled and survived breast cancer, not once, but three times. Sara was forced to work in a labor camp (the Cambodian Killing Fields) where she endured near-starvation and illness. Wendy, a dedicated teacher, was struck by a car and told she would never walk again. After months of physical therapy she returned to teaching and helping others. Meghan; her mother, Jane; sister, Erin; and brother, David, lived on cereal while Meghan's father was dying in the 1990s.
Now each of these women is a volunteer with Women With Purpose (WWP) in Pinellas County, near Tampa Bay, FL. Their spotlight on the runway carries a hopeful message of not only survival, but helping others. The fashion show, Catwalk for a Cause, where the women took their place on the runway, is one of WWP's biggest fund-raising events.
WWP is a non-profit organization that provides non-medical financial assistance for basic needs by paying rent, mortgages, utility bills, car payments and insurance, and gas and food cards to help cancer survivors make ends meet while they are too sick to work. The mission has expanded to help women who have suffered in other ways, such as being forced into sex and human trafficking.
WWP was founded by Jane Morse-Swett. After experiencing the emotional and financial loss of her husband's death, she had a strong empathy with others who faced devastating challenges. She eventually worked her way up from her low-paying $5 an hour job and became an administrator for an oncologist who provided funding to help families who were struggling with the financial aspect of cancer. When that medical office was sold, Jane vowed to continue the efforts by founding Women With Purpose. She now works with a dedicated corps of volunteers.
Fast forward to the autumn of 2015. Jane was in the throes of their fund-raising fashion show, Catwalk for a Cause, when she was called on stage to receive a surprise $10,000 check from Royal Neighbors' Nation of NeighborsSM Program. The grant's purpose is to provide financial assistance to individuals who have a plan to start or expand a business or an organization/group that helps women and girls. Jane was nominated by a Royal Neighbors employee/member.
But it didn't stop there.
WWP already had a dedicated group of volunteers who were aligned with Royal Neighbors' vision to protect women financially and empower them to improve their lives, families, and communities. They wanted to do more. The next step was to become members and form a Royal Neighbors chapter where they could further promote their efforts and Royal Neighbors' vision and mission.
A conversation with a Royal Neighbors member engagement specialist ensued about what it takes to form a chapter. After an informational discussion and some easy paperwork, it became official. A new Royal Neighbors chapter was born and with it, a new chapter of women leaders.
With the addition of Royal Neighbors Chapter 20178, a spotlight on helping women in the Tampa Bay area is shining even brighter.
Sara, Meghan, Barbara, and Wendy may not fit the typical description of runway models. But through their determined attempts to help others through WWP, and now as members of Royal Neighbors' newest chapter, the members are truly "model" citizens whose beautiful efforts will never go out of style.