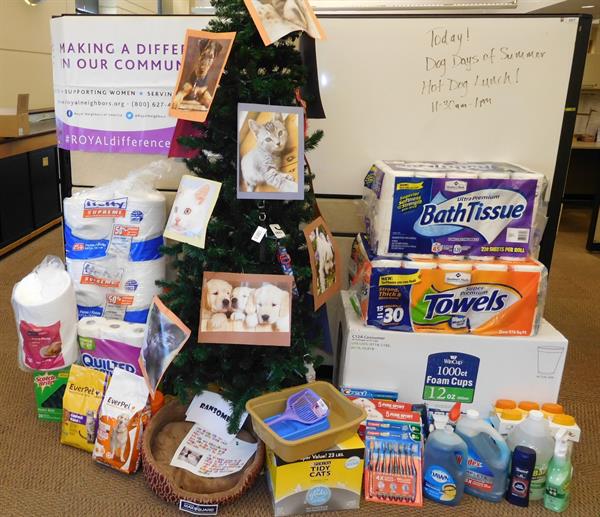 The two groups are as different as they can be. They live nearly 600 miles apart from each other and are located in different states (one in Northwest Illinois and the other in Fargo, ND). The Illinois bunch is an enthusiastic collection of busy individuals who balance work and home life and share a love of animals. The Fargo volunteers are mostly comprised of women who have been active in the community for decades. Many of the individuals have been Royal Neighbors members for many years and are now retired and are in their 70s and 80s.

However, the two groups also share many similarities.
They believe in Royal Neighbors' commitment to empower women and their families
They are excited to put their passion and creativity to work to benefit others
They received $200 in seed money from Royal Neighbors' Difference Maker Fund (DMF)
The DMF Program allows members to apply for $200 in seed money to organize and complete community service projects that align with Royal Neighbors' vision to protect women financially and empower them to improve their lives, families, and communities. The funds are distributed to Royal Neighbors members who, with their friends and family, carry out their DMF plans.

Each quarter the DMF effort with the most online votes receives $500 in additional funds to donate to the charity that is affiliated with its efforts. This quarter the two volunteer projects tied for first place and each received $500.

One winner was Handy Hands, an endeavor headed by Janet Nelson. She enlisted the crocheting skills of nine individuals to create colorful blankets, hats, and scarves to help less fortunate members of their community bundle up and stay warm. A total of 31 fleece-tied blankets was donated to Perry House in Fargo, a home for unwed mothers and their children. The volunteers also donated hats and scarves to Churches United in Moorhead, MN, to help members of the homeless community better endure the cold. The $500 donation the group received from Royal Neighbors will be equally split between the Perry House and Churches United.

"Some of our members aren't as mobile as they once were, but they can crochet and make items that can be used by those who need them," said Janet who spearheaded the group's efforts. "It is gratifying to put our hands to good use in such a personal and helpful way."

The Dog Days of Summer project, led by Jamie Humenick, was a marathon of activity. The volunteers raised $1,617.36 by hosting a luncheon, bake sales, silent auction, raffles, famous dog trivia, and other fund-raising endeavors such as a hot dog luncheon. The group of 15 individuals also collected a variety of items for the shelters such as pet supplies, household supplies, and personal care products. With the extra $500 the Dog Days of Summer participants received from Royal Neighbors they were able to donate more than $2,000 to Kings Harvest Ministries' (KHM) animal and human shelters!

In addition to a shelter for people, KHM's animal and human shelter is one of the few shelters that provides pet rescue assistance programs. KHM's services include free pet food, pet surrender opportunities, temporary homes for pets, and low-cost spaying/neutering for the pets of the homeless and low income families.

"Many homeless individuals would rather freeze in the cold than give up their animals," said Kim Hamerlinck. "This shelter is the only one I know of that provides a temporary home for pets so the homeless can enter a homeless shelter and know their pet will be cared for. Our group is very excited to help out, and with the $200 we received from the Difference Maker Fund, and the unexpected $500 for tying for the most votes this quarter, we can help even more."

People of all ages have been able to help their communities through Royal Neighbors' Difference Maker Fund. If you, your friends, or family members are looking for a project to help your community, find out more by visiting http://www.royalneighbors.org/more-than-insurance/difference-maker-fund.