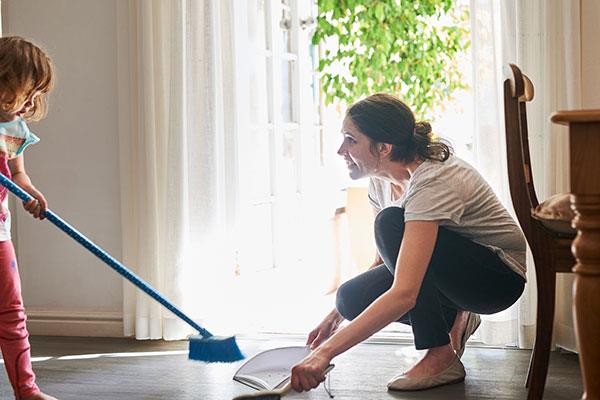 Some say spring cleaning is an ancient practice. After a long winter it makes sense that things may need a little sprucing up. Royal Neighbors suggests that spring is also a great time to launch a financial revitalization plan.

Below are a few tips to help declutter, organize your documents, review your bills and savings, and get your fiscal house in order.
Go paperless
Make it automatic
Create an in-case-of-emergency folder
Review bills
Do an insurance checkup
Go paperless
Piles of paper are not only space-consuming and unsightly, most folks fail to arrange them in a systematic fashion. This can lead to frantic searches and confusion. A great alternative is to scan papers and organize them in folders on your computer. That way, important documents will be easier to locate, and you'll free up some cabinet space. This save-a-tree mindset will earn you kudos from Mother Nature, too.

Make it automatic
Space isn't the only thing worth saving. If you don't have automatic contributions taken out of your paycheck, now is the time. The best way to sock money away is to never see it in the first place. You'll adapt to a smaller paycheck, but are less likely to have that same amount available if it reaches your wallet first. Automatically designating funds to go into a 401(k) is a smart choice. If your employer matches your contribution, be sure you take advantage of contributing the full amount and not leave free money on the table.

Create an in-case-of emergency folder
Creating an in-case-of-emergency folder can be a financial life saver. First appoint someone to act on your behalf to pay your bills in the event that you cannot do so. Have a folder prepared in advance with important information such as login IDs and passwords, a list of bills and due dates, investment and retirement fund info, and any other crucial documents. To prevent identify theft, be sure to tell the person who will be responsible for managing your finances where this information is stored (hard copy or on the computer). For security reasons it's best to name the document something other than Important Financial Documents.

Review bills
One way to save money and reduce waste is to review your monthly expenses. There are budgeting software programs available to help organize and analyze budgets. Some banks offer this free of charge. There are many budgeting apps for phones too. For those who prefer a hands-on approach, you can organize your bills and receipts into two categories, necessities (groceries, utilities, mortgage payments, etc.) and non-essential items such as multiple cable services, entertainment costs, shopping sprees, and dining out.

It also pays to be proactive about your expenditures. Seek opportunities to save money. Will your Internet provider give you a loyalty discount? Does your utility company offer an option to pay equal payments year-round rather than have you scrambling for extra money when your utility bill triples due to increased energy usage? Are you paying for duplicate services? For example, do you need to have a car club with roadside service and the same coverage on your auto insurance? It's worth investigating.

Do an insurance checkup
It's generally a good idea to review your insurance needs every year. Think of it as a way to search for money-saving opportunities. Many companies offer discounts if you have more than one policy with them – such as multiple drivers, or car and homeowner's insurance. You can ask your agent to review your policy. Don't forget to specifically ask for options on how you may be able to save on your premiums.

When it comes to life insurance, you want to have an annual checkup to make sure that your coverage accurately reflects your current needs. If you renovated your home, married, had a child, received a promotion, or had any life changing event, you want to make sure you're properly covered. It's also a good time to make sure your address, phone number, and the contact information for you and your beneficiaries are up to date.

Spring is a great time to spruce things up. Whether it's steam cleaning the carpets, or streamlining your finances, think of it as the perfect season to prepare for a brighter future.