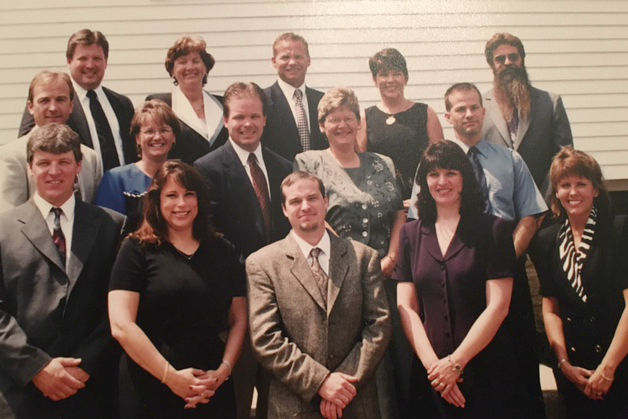 When Tracy Kotecki and her husband wanted to purchase life insurance for their young sons, Ryan and Aaron, Tracy decided to follow in the footsteps of her grandparents, Gwen and Ralph Swift. Her grandparents purchased life insurance through Royal Neighbors for each of their 15 grandchildren when they were born. Tracy knew her grandma believed in the virtues of Royal Neighbors, one of the largest, women-led life insurers in the U.S. The family matriarch was an active volunteer chapter leader who hosted numerous meetings at her home in Tonica, IL, to raise interest and funds for community improvement projects.

The Swift family was a prominent large animal and grain farmer in the Midwest. They understood the importance of providing for their family, protecting their future, and were firm believers in the importance of education. Three of the Swift's surviving children, Nancy, Mary Ann, and Irene, still have their Royal Neighbors life insurance certificates and have been lifelong members for up to 82 years!

Now the Swift family descendants, a combination of Gen X and Baby Boomers, are spread out from the East to the West Coast. One of those grandchildren is Tracy. Tracy grew up hearing stories about her mom, Nancy, attending Royal Neighbors chapter meetings with Tracy's grandma, Gwen. Although she didn't know the details, she knew her grandmother believed in giving back, and often did charitable work through Royal Neighbors. Even today many of Gwen and Ralph's grandchildren continue to give back to the community by donating their time for the American Red Cross, Tonica Volunteer Ambulance Service, and Tonica Volunteer Fire Department.

Since life insurance was a family experience for Tracy, as it is for many individuals, she followed her grandparent's example and purchased life insurance from Royal Neighbors. That was 17 years ago.

"I was surprised at how easy it was," said Tracy. "There were a lot of things to consider, but one thing I knew was I wanted to do business with an insurer who was going to be around for the long haul. With Royal Neighbors I found a strong, stable organization I could trust, and one I knew from my own family history gave back to the community where I live."

Tracy and her family members have personal experience of how Royal Neighbors gives back through their member benefits.
Tracy's son, Aaron, was awarded a scholarship in 2010. He's a third-year dental student at the University of Iowa and plans to specialize in oral surgery.
Tracy received a Difference Maker Fund (DMF) grant for her Girls on the Run Council, a national program that Tracy organized in the Quad Cities. Girls on the Run's mission is to inspire girls to be joyful, healthy and confident using fun, experience-based curriculum which creatively integrates running.
Tracy's cousin, Lucy, was one of the first DMF winners and she used her grant money to create Sew Fabulous, a multi-generational group of girls and women (including her aunts Irene and Nancy) that creates quilts and donates them to charities.
Additionally, Tracy has been a Royal Neighbors employee for the past three years.
"When I applied at Royal Neighbors I was seeking employment with three characteristics: a solid foundation, a place where I could contribute to make a difference, and a trusting relationship with my direct report. Obviously, I found all three. And of course I still have my Royal Neighbors life insurance as well."