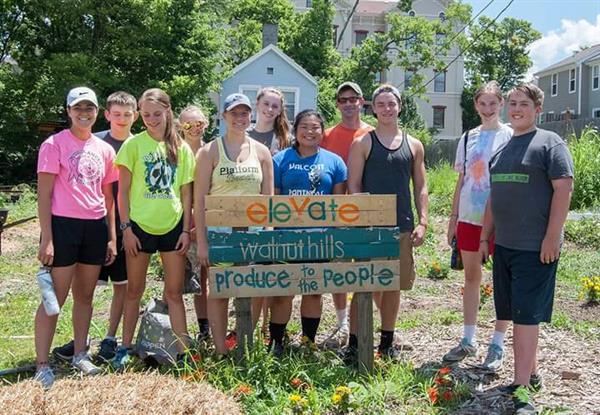 A Walnut Hills neighborhood in Cincinnati, OH is abuzz with activity. Volunteers and neighbors work side by side to harvest a bountiful crop of tomatoes, Swiss chard, cucumbers, beets, radishes, snap peas, basil and thyme. The community project, Produce to the People, Elevate Walnut Hills, is flourishing again thanks to a $10,000 Nation of Neighbors grant from Royal Neighbors.
The area had been described as a "food desert" where residents have little access to fresh fruit and vegetables and subsist on heavily processed food that can make their existing chronic health conditions worse.
In 2014, with the help of other volunteers in the community, Frankie Young was able to establish the community garden, and empower residents to grow and share their fruits, vegetables, and herbs with one another. Sharing was also encouraged with those who were unable to participate due to health issues, advanced age, or time constraints.
Excess produce was donated to several food pantries in the community. Immediately after the yield there was a neighborhood potluck where neighbors prepared meals from their harvested bounty and shared it with each other.
Produce to the People/Elevate Walnut Hills worked, but in 2015 it was in danger of going dormant due to lack of funding. Then Frankie, with the help of Donna Foster, an independent life insurance agent with Royal Neighbors of America, won a $10,000 grant to continue her work with the garden.
Several months have passed and Royal Neighbors recently followed up with Frankie to see how things were going at the garden. She gave a glowing report.
"Things are going great," said Frankie. "I'm very thankful to Royal Neighbors. A lot of folks don't realize it takes a lot more than hard work and good intentions to keep a community garden growing. After we received the Nation of Neighbors grant we went to Home Depot to buy much-needed tools and supplies. It was a joyful experience."
Now the program can expand in different ways.
"During one harvest I gave a young woman some cauliflower. She turned it over in her hand and asked me what it was. I told her it was cauliflower. Then she asked what she was supposed to do with it. I realized then that we needed to do more than just give away produce. We needed to provide nutritional information and offer cooking classes."
Whether it's neighbors-helping-neighbors or communities-helping-communities, Frankie Young's Produce to the People/Elevate Walnut Hills is an example of a Nation of Neighbors project that does more than nourish bodies, it helps feed the soul.