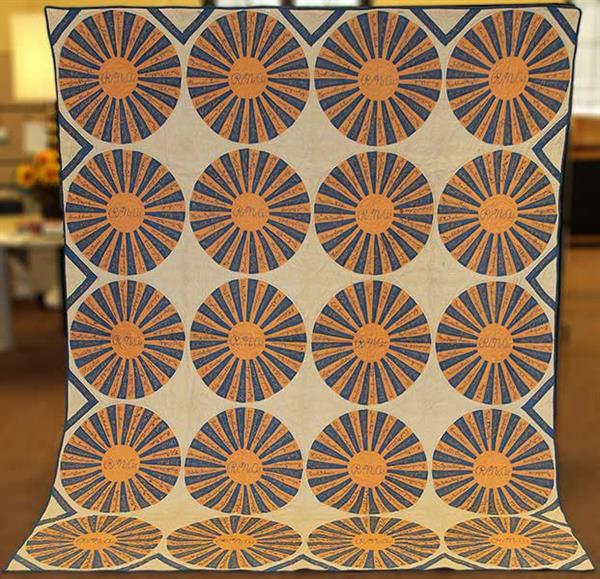 What do quilting and Royal Neighbors have in common? More than you might think.

The Smithsonian's National Museum of American History in Washington, D.C. has accepted two handmade, 1930s quilts created by our members. These precious items commemorate our members' passion for "neighbor-helping-neighbor," and highlight the historical contribution of quilting by women through several centuries.

According to Catherine Noll Litwinow, Bettendorf, IA, Trained Appraiser, Teacher, Quilter, and Lecturer, "The true value of quilting is that it is one of the few legacies left by women. Quilts are a way of remembering the role women have played in history."

Traditional Quilting Bees, where women came together to create quilts, became popular in the United States around 1800 and were an important part of a woman's social life. They gave women the opportunity to be with friends, be artistic, and design useful items for their home. Often quilts, including those donated to the Smithsonian, include historical references such as the quilters' names and local businesses that supported the community.

The 85-year-old quilts were created by members of Royal Neighbors' volunteer chapters who desired to help others in their communities, an organizational mission that still exists today.

One of the donated quilts was created by Hattie Gass, a member of the Virden, IL, Royal Neighbors chapter. Ms. Gass' RNA wheel quilt includes 36 blades in the unusual colors of royal blue and orange, and the names of fellow Royal Neighbors members hand-stitched into the hubs of the wheels.

The other quilt was created by a Quilting Bee comprised of members of the Clovis, NM, chapter. This quilt features embroidered flower blocks, including lilies, representing the chapter's name circa 1930 called Lily Camp. Although quilting is a multi-million dollar business today, these memory quilts were created simply for nursing home residents as a means of providing a measure of comfort, warmth, and support.

Lucy Blasi is one Royal Neighbors member carrying the traditions of quilting and neighbor-helping-neighbor forward. Thanks to her grandmother, she has been a member for 50 years. And, she is keeping the time-honored Quilting Bee buzzing along, too. Using funds from the Royal Neighbors Difference Maker Fund program, Lucy gathered an inter-generational group of friends and family together to create colorful quilts for the Waterford Place Cancer Resource Center. The end result of their efforts for cancer patients is knowing they are not alone.

Whether quilts are showcased in the Smithsonian's National Museum of American History, used for comfort and warmth, or kept as a keepsake, the common thread that ties them to our generous members and our collective legacy is part of Royal Neighbors' DNA.