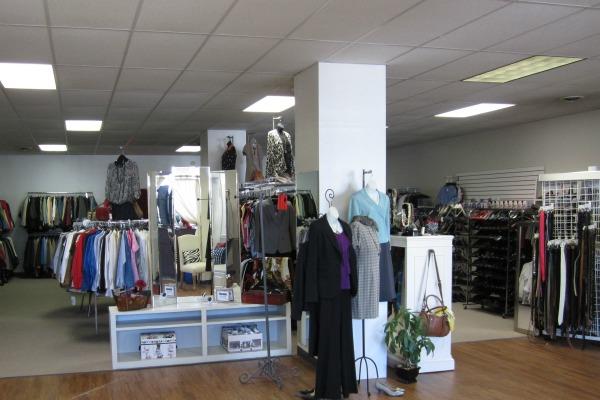 Employers expect professional dress for women and men alike. Unfortunately many women reentering the workforce don't have appropriate business attire to get past their first interview. Regina Haddock found a creative and fashionable way to address the problem when she founded Dress for Success in the Quad Cities with the help of a grant from Royal Neighbors.

Regina is one of several grant recipients of the Nation of Neighbors Program which provides financial support to empower women to achieve their full potential, realize a sense of renewed personal growth, and give back to their communities. More than $1.7 million has been awarded since the program was launched in 2007.

We recently followed up with Regina, so we could share her story and check on her progress with Dress for Success.

RN: You seem very passionate about the work you do with Dress for Success. What sparked interest in your program and why did you decide to pursue it?
RH: Around 20 years ago, I was a stay-at-home mother with young children and heard a story on the network news about this new organization called "Dress for Success" in New York City. About a year later, our local news featured a similar service in Davenport, Iowa. I had lost my sister a few years earlier in a tragic car accident and remember thinking how good Becky would've felt about my decision to give her professional clothing to help women in need.

Fast forward 15 years and I began wondering what happened to that service and why we didn't have Dress for Success in the Quad Cities. At that time I was under-employed and working part-time, like a lot of people. As a single parent looking for work, I recognized the value something like Dress for Success would've had for someone like me when I was ready to interview but couldn't afford nice clothes. I decided to do something about it.

RN: What has been your proudest moment in connection to Dress for Success and Nation of Neighbors?
RH: I love knowing that Dress for Success is a "sisterhood" of support, now with 142 affiliates in 20 countries, and that we are helping women around the world, one suit at a time. In 2013 I had the privilege to serve on a panel and review Nation of Neighbors nominations. When I saw the happiness on the faces of the new winners I felt a special bond with them. I'm thankful that Royal Neighbors keeps the fire going for the yet unsung s/heroes of the future!

RN: What was your biggest obstacle?
RH: My own youth and young adulthood had been filled with challenges that many low-income families face. I hadn't always made the best choices but having a good job and achieving financial independence was always a personal goal of mine. Thanks in part to student loans, I went back to college and earned a master's degree, even after a divorce in 2000 and several job changes. In late 2004, I received a breast cancer diagnosis. I was under-insured but thankful I had purchased the student health insurance offered at my college which covered catastrophic illness.

So when it came time to start a new nonprofit, something I had never done before, I had a lot of skills and passion for the mission… but not much money. Receiving the Nation of Neighbors award to help launch Dress for Success Quad Cities came at a very critical time during our startup period when we had just received our 501c3 status and could start to raise funds.

Q: What is your vision for 2016?
RH: My vision is to continue to build community support behind this mission so that one day every woman who needs appropriate attire for her interview and new job will have it. If we are to survive as an organization, we need to have a long-range plan that will insure our success. I also believe we have a role to play in creating solutions to poverty that require all of us to work together. No organization can do this work alone and we look forward to working closely with Royal Neighbors and others in the years to come.