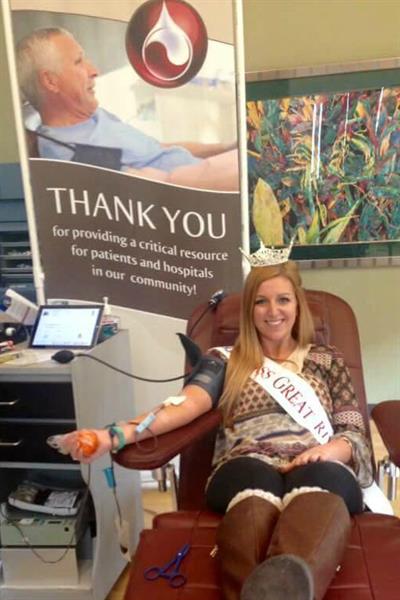 It started as a fluke. Darcy had volunteered to raise funds for the Child Abuse Council but she needed a babysitter for her three-year-old daughter, Taylor. "Why don't you just bring her with you?" one of her friends suggested. With child in tow, Darcy headed off to the grocery store where they had permission to request donations just outside the door.

Darcy explained to Taylor what they would be doing. The bubbly child not only embraced the idea, she took it a step further. Rather than passively wait for contributions to dribble in, she enthusiastically approached the shoppers and asked if they would like to donate to the cause.

Who could resist?

Taylor raked in a boatload of cash for the charity, and saw first-hand how even a preschooler had the power to help others. From that day forward Taylor accompanied her mother to Royal Neighbors chapter meetings and took part in various volunteer activities. It was a win/win for both mother and child. Taylor not only enjoyed helping out, she also loved spending time with her mom.

With the success of that first volunteer experience, and her mom serving as a great role model, Taylor, now age 23, has developed from a socially-conscious child to an adult who is passionate about helping causes such as Autism, Alzheimer's, Children's Miracle Network, educating people about the importance of donating blood, and many more. Taylor was named Fraternalist of the Year by Royal Neighbors of America in 2013 and was first runner-up for the national title for the American Fraternal Alliance Volunteer of the Year the same year.

The apple didn't fall far from the tree. Darcy, a member engagement specialist with Royal Neighbors, won Illinois Fraternal Alliance's Fraternalist of the Year and the YWCA Hearts of Gold Award for volunteerism in 2010. In her role with Royal Neighbors Darcy not only volunteers numerous hours helping others, she encourages others to become involved in the community, as well.

Clearly Darcy's efforts to sow seeds of compassion in her children's hearts and minds took root and bore fruit.

"Kids are always watching. They are more likely to do what they see you do than what you tell them to do," said Darcy. "I guess the best advice I can give is to help your children develop good character traits, expose them to volunteer opportunities when they are young, and allow them to gravitate to the causes they are passionate about. If you do that, good results are sure to follow."


Tips for Raising a Socially Responsible Child:
Be a good role model.
Teach kindness. It doesn't always come naturally.
Expose children to volunteer opportunities when they are young.
Set a goal so children can see the benefit of their actions (money raised, volunteer hours performed, people they have helped, etc.).
Allow children to volunteer for causes they feel passionate about (animal shelter vs a soup kitchen).